2020 Speech Day & Valedictory Service
Celebrating the top achievers of 2020
This has not been an easy year for the Class of 2020, and it was especially heart-warming to witness our 6th formers carry out some of the traditions of school leavers at College. At the end of last term, these young men ceased to be College boys and became College "Old Boys" as they were formally inducted into the Maritzburg College Old Boys' Association. This week, the traditional 6th form procession took place around the school with shouts in each quad, signing of shirts on Forder Oval, a last war cry and ending with our 6th Form Speech Day and Valedictory Service. This year, our Speech Day saw Cultural, Sporting and Academic awards being given in recognition of outstanding achievements by our 6th formers.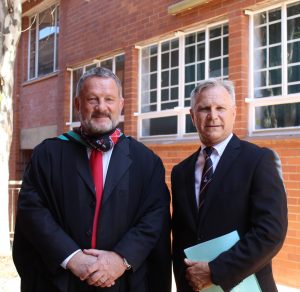 In his address, College's Headmaster Mr Chris Luman gave wise advice to the boys; know who you are, take responsibility for your own life, determine your priorities, and persevere when life is difficult. Guest of Honour was current Headmaster of Merchiston, Mr Dave Beetar. Mr Beetar is the longest serving Headmaster of Merchiston and will retire at the end of 2020 after thirty-three years of service to the school. In his speech, he passed on nine useful lessons learned. At the heart of these was the call to celebrate people and be grateful for those who touch your life. He reminded the boys that their education was not finished; they need to stay the course and follow their dreams, to never be afraid to ask for help, and to be significant by serving others.
Download Mr Luman's full speech
Download Mr Beetar's full speech
Head Prefect Chris van Heerden addressed his classmates, praising them on rising above the challenges they have faced this year. He thanked the staff of College for everything they have done, as well as his Deputy Head Prefects and fellow Prefects for their support and encouragement. He ended his speech with an emotional goodbye to his fellow brothers, thanking them for the memories built, and calling on them to return to their red black white home.
Download Chris van Heerden's full speech
Of the awardees, special congratulations to our Dux for 2020, Ishalin Maharaj who also received subject prizes for English and Life Sciences as well as the Val Harley Trophy for Creative Writing. Matthew Zunckel (2nd in Form) was awarded subject prizes for Mathematics and Physical Science, while Deputy Head Prefect, Thomas Katzenellenbogen was placed 3rd in Form, and was awarded subject prizes for Afrikaans, History and the Olley Prize for History and English.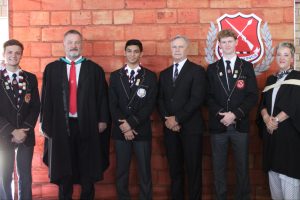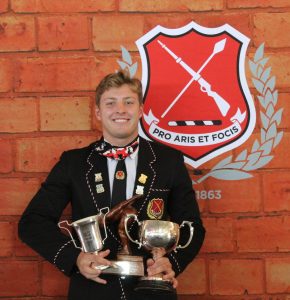 College's outgoing Head Prefect, Chris van Heerden, has displayed outstanding leadership and sporting skill this year, and was awarded the Oscar Servant Trophy for Best Performance at Championship Gala, the Bill Hendry Trophy for Open Swimming Champion, the Phelps Cannon Prize for Service to the School, the Charles Taylor Award for Good Fellowship, and the Mike Brown Five Pillars Award. The Five Pillars award recognises exceptional achievement in academics, leadership, sport, culture and service.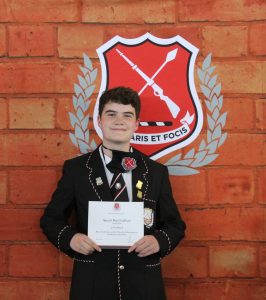 Among the prizewinners was AJ Westley who received the Douglas Comrie Memorial Trophy for Outstanding Contribution to the Choir, the Music Revival Trophy for Contribution to Music, a Merit Certificate and the Prize for Achievement in Academics and Culture.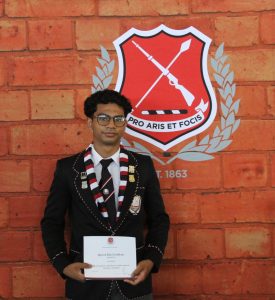 Yukail Naidoo also displayed versatility of talents and was awarded a Merit Certificate and the prize for achievement in Academics and Sport.
Deputy Head Prefect, Kent Goedeke received the Oscar Servant Trophy for Best All-Round Cricketer in the 1st XI, and the Skonk Nicholson Trophy for the Most Committed Player in the 1st Rugby XV. Nhlakanipho Ngcobo was awarded the Greenhalgh Cup for the Most Valuable Basketball Player and the Ron Jury Trophy for Best All-Round Basketball Player, while Matthew Zunckel received the DJ Berry-Jennings Cup for U18 Athletics Champion, the College Shield and Victor Ludorum.
Well done to all the Class of 2020 – these are young men of stature who can go forward with pride and courage, knowing that their time at Maritzburg College has prepared them well for wherever their lives take them.
Pro Aris et Focis
Maritzburg College Prize Winners 2020
Cultural Awards
Individual Cultural Trophies
Robertson Trophy for Outstanding Service to the Audio-Visual Society:
CM Kisbey-Green
Mary-Ann Hartley Trophy for Most Outstanding Vocal Soloist:
AHK Zungu
Douglas Comrie Memorial Trophy for Outstanding Contribution to the Choir and the Music Revival Trophy for Contribution to Music:
AJ Westley
Mc Gibbon Trophy for Best Stage Actor:
CN van Selm
Christopher Duigan Trophy for Excellence in Music Performance
MA Thomas
Lood Muller Trophy for Contribution to the Afrikaans Society:
C van Heerden
Calder Trophy for Public Speaking:
RJ Akerman
Maritzburg College Speakers' Circle Trophy for the Most Improved Speaker:
H Mewalall
Graham Holder Trophy for Outstanding Contribution to the Media Centre:
R Hassim
Sport Awards
Individual Sport Trophies
DJ Berry-Jennings Cup for U18 Athletics Champion, College Shield and Victor Ludorum:
MH Zunckel
Greenhalgh Cup for the Most Valuable Basketball Player and
Ron Jury Trophy for Best All-Round Basketball Player:
N Ngcobo
Arnold Moseya Trophy for the Best Defensive Basketball Player:
AR van Straaten
'Slow' Ngcobo Memorial Trophy for Outstanding Contribution to Basketball:
S Manyathi
Oscar Servant Trophy for Highest Placed Junior in Dusi Canoe Marathon:
LMC Arnold & TM Ross
Maritzburg College Trophy for the Chess Player of the Year:
N Whatmore
Oscar Servant Trophy for Best All-Round Cricketer in the 1st XI and
Skonk Nicholson Trophy for the Most Committed Player in the 1st Rugby XV:
KE Goedeke
Johnstone Trophy for Strokeplay Champion in Golf:
EL Gough
Shrives Trophy for the Most Committed Player in the 1st Hockey XI:
MC Veenstra
Oscar Servant Trophy for Fellowship in Hockey
BD Jackson
Olivier Trophy for the Player of the Year in the 1st Rugby XV:
CV Dlamini
Frank Lambert Cup for the Best Overall Shottist and                                 MacLean Trophy for Best Shottist in the Standing Position:
ULY Molefi
Oscar Servant Trophy for Best Performance at Championship Gala:
JL van der Merwe & C van Heerden
Bill Hendry Trophy for Open Swimming Champion:
C van Heerden
Oscar Servant Trophy for the Most Committed Tennis Player in the 1st Team:
TM Katzenellenbogen
Sean Burgoyne Fellowship Trophy for Water Polo:
Q Lupton-Smith
Forder Cup for Champion House 2020:
Commons
Academic Awards
Merit Certificates:
YS Atwaru, N Bhengu, PJD Elliot, R Hassim, K Hough, TKM Mbatha, H Mewalall, TV Mohabir, D Moodley, JI Moses, JP Muggleton, LP Muller, ZT Nzimande and T Thulsie
The Ian McAllister Prize for Academic Progress:
KM Hadebe
Subject Prizes
The Prize for Dramatic Arts:
K Thaver
The Prize for Information Technology:
ML Els
The Prize for Maths Literacy:
TGF Rasmussen
The Prizes for Music and CAT:
MA Thomas
The Joint Epoch and Optima prize for AP Maths:
GR Freemantle
Merit Certificate, the PWC Prize for Accounting:
HM Moosa
Merit Certificate, the joint Epoch and Optima Prize for AP Maths:
MCC Darch
Merit Certificate, the Prize for Business Studies:
JE Lowe
Merit Certificate, the Prize for Geography:
JM Bense
Merit Certificate, the prize for Visual Arts:
Z Osman
Merit Certificate, the Prize for isiZulu:
LV Mosiea
Merit Certificates, the joint PKF Trophy for Economics:
S Kidsingh & SA Zondi
Merit Certificate, the Prizes for Agricultural Sciences and EGD:
MH Smith
Special Prizes
The Maritzburg College Old Boys' Association Prizes for Service to the School:
KE Goedeke, TM Katzenellenbogen, TKM Mbatha & KS Morsink
The Phelps Cannon Prize for Service to the School:
C van Heerden
The Charles Taylor Award for Good Fellowship &
the Mike Brown Five Pillars Award:
C van Heerden
Nora Cook Trophy for Altruistic Service:
S Manyathi
Merit Certificate, Prize for Achievement in Academics & Sport:
Y Naidoo
Merit Certificate, Prize for Achievement in Academics & Culture:
AJ Westley

Merit Certificate, Prizes for Afrikaans, History, the Olley Prize for History and English,
and the Bidvest Waltons Prize for THIRD IN FORM:                                TM Katzenellenbogen

Merit Certificate, the Prizes for Mathematics, Physical Science and
the Nedbank Proxime Accessit for SECOND IN FORM:
MH Zunckel

Merit Certificate, Prizes for English, Life Sciences, the Val Harley Trophy for Creative Writing,
the First National Bank Prize and Levinsohn Trophy for the DUX OF MARITZBURG COLLEGE:
I Maharaj