THEME: HONESTY
We welcome the President of the MCOBA, Mr Andrew Clayton who will address you shortly.
From Scripture

"Better is a poor person who walks in his integrity than one who is crooked in speech and is a fool." – Proverbs 19:1
"Lying lips are an abomination to the Lord, but those who act faithfully are his delight." – Proverbs 12:22
"Let what you say be simply 'Yes' or 'No'; anything more than this comes from evil." – Matthew 5:37
"Whoever speaks the truth gives honest evidence, but a false witness utters deceit." – Proverbs 12:17
The Lord's Prayer
Our Father, who art in heaven,
Hallowed be thy Name.
Thy Kingdom come.
Thy will be done in earth,
As it is in heaven.
Give us this day our daily bread.
And forgive us our trespasses,
As we forgive those who trespass against us.
Lead us not into temptation,
But deliver us from evil.
For thine is the kingdom,
The power, and the glory,
For ever and ever.
Amen.
How can you demonstrate honesty on a daily basis in practical ways?
Think before you speak
Say what you mean and mean what you say
Bend over backward to communicate in an open and honest fashion
Keep your message simple so there is no confusion
Tell it as it is
Present both sides of an issue to ensure objectivity
Make your personal bias known if you have one
Tell people the rationale behind your decisions so that your intent is understood
Quickly correct misinterpretations
Don't shoot the messenger when someone tells you the truth. Thank them for their honesty and treat the information provided as a gift
Willingly accept responsibility by admitting a mistake or error in judgement in a timely fashion
Hold people accountable when their words do not match their actions
Never compromise your integrity and reputation by associating yourself with people whose standards of integrity you mistrust
Music Performance
One of our boys, Z Desebroek, performed a beautiful rendition of  Liebestraum No 3 by Franz Listz on the piano.
Academic Excellence
The top 10 boys in each of the forms following the Term 3 results, were announced.
Details of these are here.
The boys will be recognised in the quarterly Good Report tea on Thursday this week.
Sport Report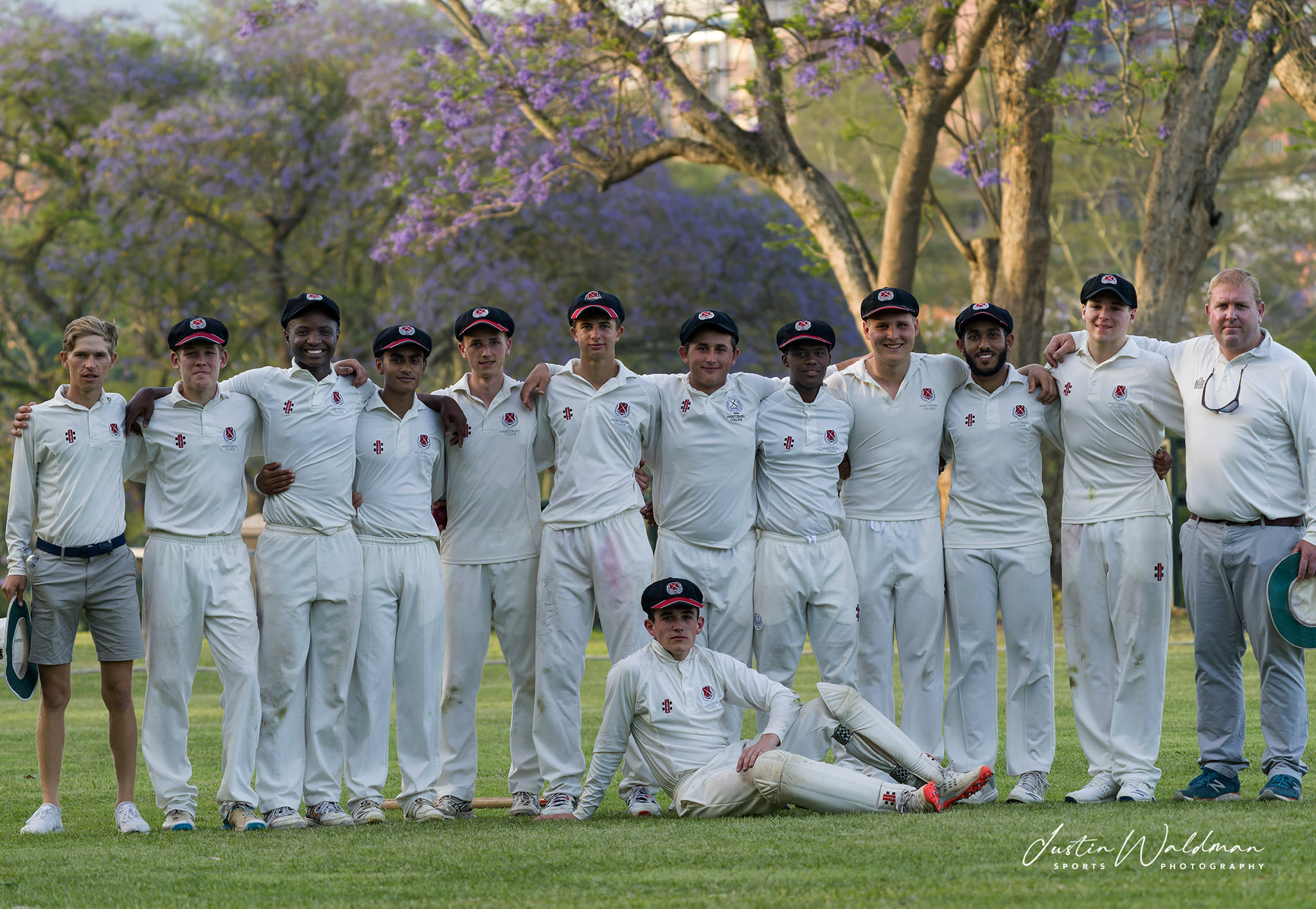 This weekend, College took on long-time friend and rival Kearsney College in cricket, water polo and basketball fixtures. Fortunately the weather was much more favourable this weekend with some great games taking place, most of them at Kearsney.
College had 12 cricket teams in action, most of which were against Kearsney. Our results showed good wins for the 1st and 2nd XI, and overall, 8 wins and 4 losses for the #RedBlackWhite.
It was a tough day for the water polo teams with narrow losses for 4 of our 5 teams in action against Kearsney.
Our junior basketball teams claimed some kudos back, winning all of their games, although all the senior teams had losses.
Our canoeists posted some very good results in the Shongweni race with places in the U18, U16 and U14 categories.
Details of all the sports results for the weekend are here
Address by MCOBA
Mr Andrew Clayton [OC 1991], President of MCOBA, addressed the boys commending them on their academic, cultural and sporting performances. He encouraged them to be actively involved in all the activities College offers while at school, and reminded them that many of the friends they make in the five years they are here, will remain friends and brothers beyond the College walls. Ahead of the Old Boys' 125th anniversary in 2022, he highlighted the value of the MCOBA network of support that exists, encouraging them to stay connected after they leave school.
Long Service Award: Mr Darryl Trodd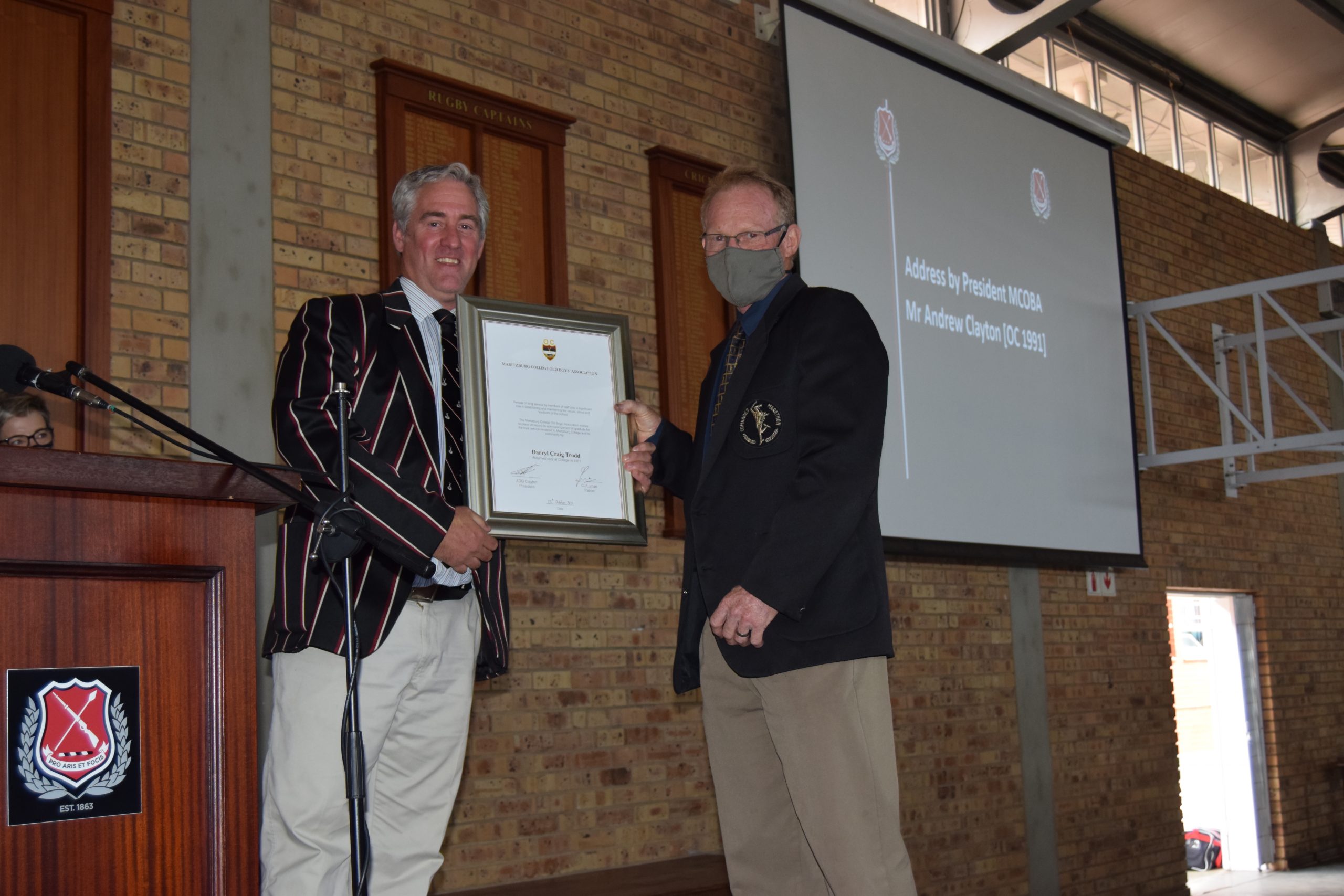 Mr Clayton also presented current staff member, Mr Darryl Trodd, with a certificate recognising 35 years of service to the school, commending him on all he has contributed.
I wish you all a good week.
 Pro Aris et Focis