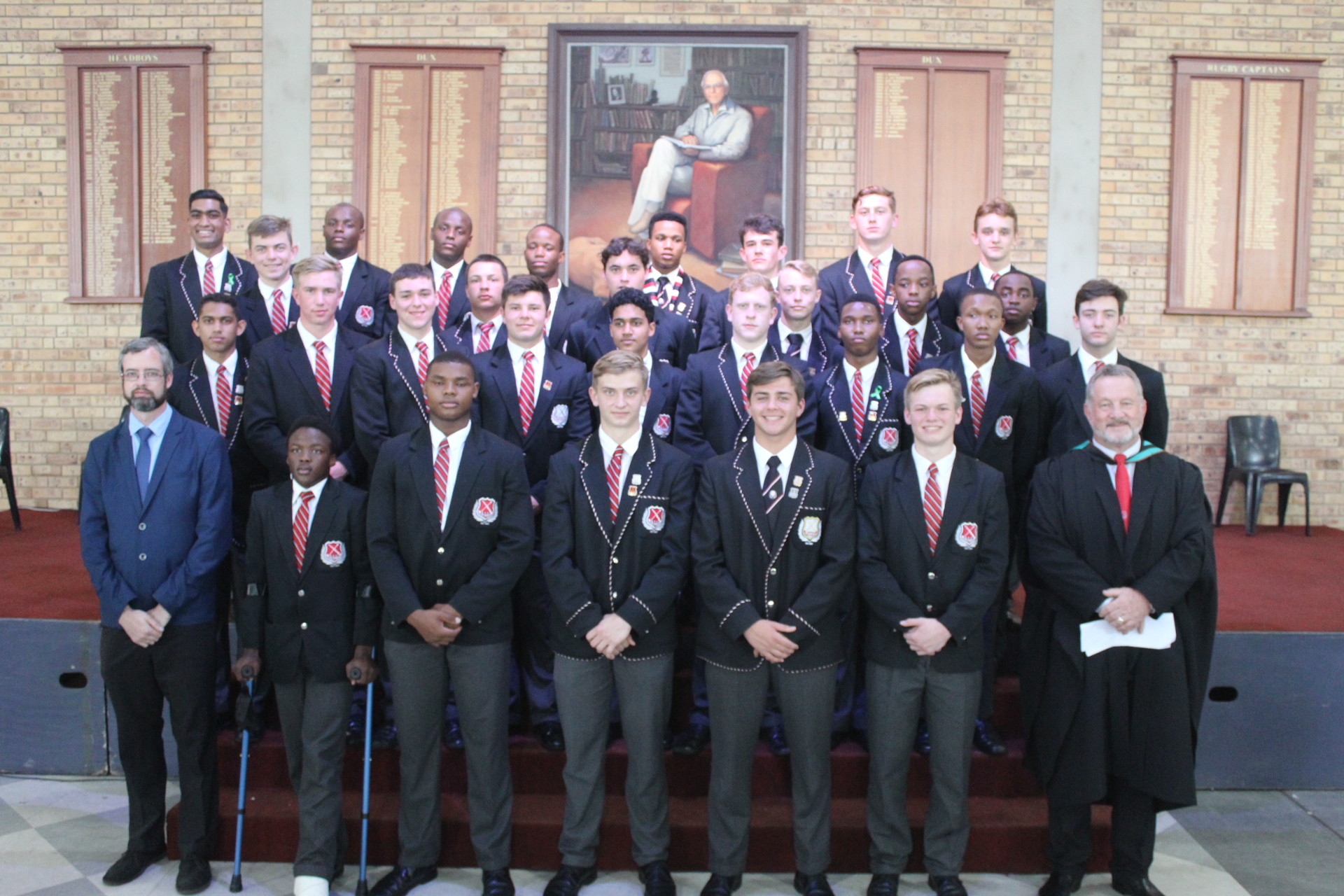 Today we held the tenth annual Passing of the Drum Ceremony on our campus, a formality first introduced in 2012, to celebrate the appointment of the school's pupil leadership for the next year. These include our head and deputy head prefects, prefects, shouting captains, and house leaders.
To be appointed as a College Prefect is one of the highest honours that the school can bestow upon a pupil, and along with the honour, comes accountability and responsibility. These boys have endured a rigorous process to achieve this honour and they would not have been appointed without the wider College's pupil and staff support. College appoints five senior prefects to lead this team; and we extend our sincere congratulations to our Head Prefect for 2022, Keagan Goddard and our Deputy Head Prefects; Sphephelo Mbonambi, Joshua Munn, Zibusiso Shongwe and Tian van Heerden.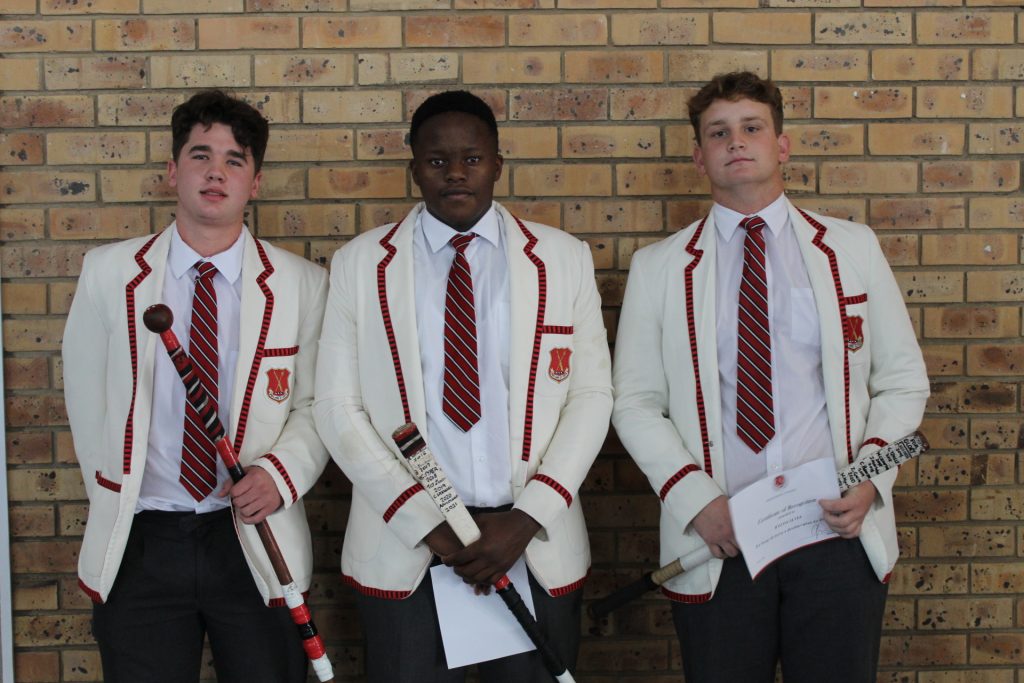 We also announced the three shouting captains for 2022 – congratulations to Ricardo Goncalves, Thomas Koller and Neo Mokoena. These young men have a unique role at a school like Maritzburg College, with its emphasis on spirit and camaraderie. Voted for by their peers, each year it is the job of our Shouting Captains to inspire and cajole the troops on Basher Ridge, on Pape's and elsewhere, to get behind our College men.
Today we named our house leaders, house captains and vice captains for the 10 day houses – our "homes within a home" at College. These young men are given various portfolios and assist the housemaster and staff in running the houses on a daily basis.
The five Border prefects who lead each of the boarding houses at College provide support to the boarder masters and boarder staff necessary for what is the largest Public School boarding establishment in the country, with its own particular culture and traditions. It is their job to ensure a happy, efficient and disciplined home for our 500 boarders. Today, we congratulate Sphephelo Mbonambi, (Head of Nathan House and Senior Boarding Prefect), Joshua Munn (Head of Clark House), Minenhle Ngubo (Head of Hudson House), Neo Mosebi (Head of Shepstone House) and Johnathan van Zyl (Head of Elliott House).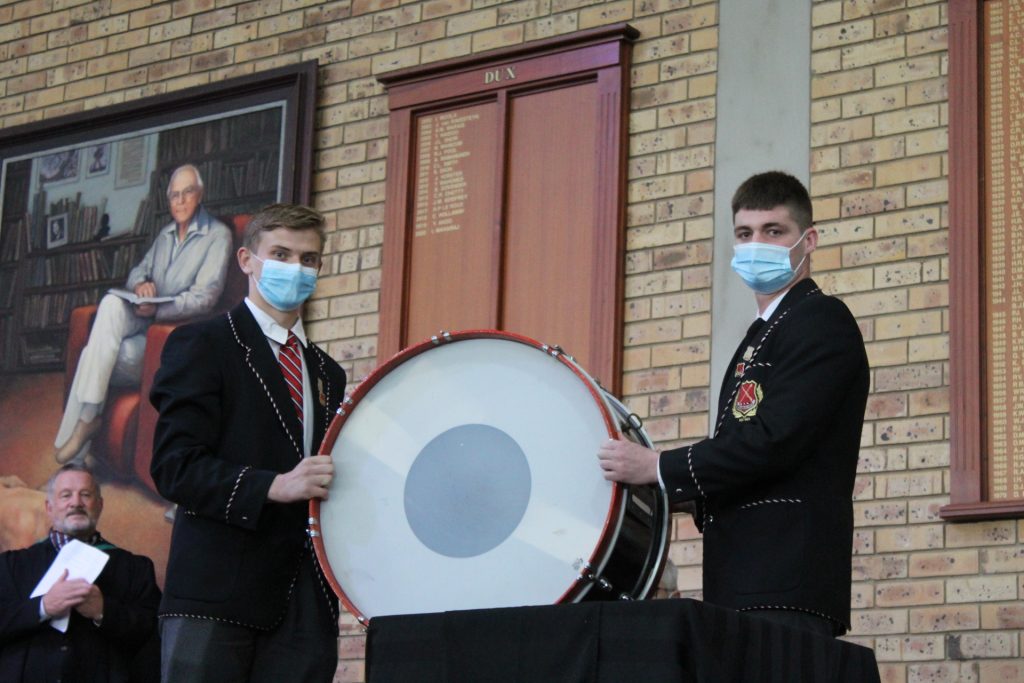 A very special part of this assembly at College is the passing of the drum from our outgoing Head Prefect to the new incumbent, symbolising the passing of authority between these two boys. For many years it is the tradition that an outgoing College head prefect places a written message of support to his successor in the old drum. While this long-established tradition continues, the original old Thrash Drum that was used is now housed in a permanent case on display in the Victoria Hall, and a side-drum from the old school cadet band is used to symbolise the passing of authority from the prefects of 2021 to the prefects of 2022.
At the 2021 ceremony, outgoing head prefect, James Beauclerk placed his personal message of support to the head prefect for 2022 in the old drum, and handed the custodianship of the drum to Keagan Goddard, as a symbol of the passing of his authority.We wish all our leaders well for 2022 and know that, as a school, we place our support, our trust and our confidence in you as we move into the new year.
College's Leadership Team for 2022
Senior Prefects
Head Prefect: Keagan Goddard (Highbury)
Deputy Head Prefects: Sphephelo Mbonambi (Umhlali Preparatory), Joshua Munn (Winston Park Primary), Zibusiso Shongwe (Pelham), and Tian van Heerden (Pelham)
Prefects
| | | |
| --- | --- | --- |
| Thaufiq Abramia | Pelham  | Barns |
| Aidan Carter | Uelzen Primary | Forder |
| Lee Dashwood | Scotsville Primary | Nicholson |
| Ross Finnie | Merchiston | Lamond |
| James Godleman | Merchiston | Lamond |
| Ross Graham | Chelsea Prep | Fuller |
| Cameron Hankinson | Cordwalles | Pape |
| Yamkele Katide | Athlone Primary | Fuller |
| Yomlela Katide | Athlone Primary | Fuller |
| Keegan Kisten | Deccan Road Primary | Nicholson |
| Bayanda Luthuli | DPHS | Nicholson |
| Shrivar Maharaj | Deccan Road Primary | Barns |
| Karl Meisegeier | New Hanover Primary | Lamond |
| Neo Mosebi | Dale Junior | Commons |
| Khanyisani Mthimkhulu | Mountain Rise Primary | Barns |
| Minenhle Ngubo | Durban Primary  | Nicholson |
| Wade Pillay | Cordwalles | Snow |
| Matthew Ponter | Hilldrop Heritage | Fuller |
| Chris Prinsloo | Laddsworth | Lamond |
| Liam Prinsloo | Glenwood Primary | Lamond |
| Trenton Roux | Highbury | Nicholson |
| Joshua Sparks | Howick Prep | Commons |
| Thandolwethu Zimu | St Nicholas Diocesan | Strachan |
| Ntando Zwane | Monument Primary | Commons |
Head of Boarding Houses
Boarder Prefects:  Jared le Court de Billot (Hudson House), Shakeel Manack (Shepstone House), Joel Jansen van Vuuren (Shepstone House) and A Chiliza (Shepstone House)
Head of Nathan House & Senior Boarder Prefect: Sphephelo Mbonambi
Head of Shepstone House: Neo Mosebi
Head of Clark House: Joshua Munn
Head of Hudson House: Minenthle Ngubo
Head of Elliott House: Johnathan Van Zyl
Shouting Captains
Ricardo Goncalves [Pape], Thomas Koller [Nicholson], Neo Mokoena [Barns]
House Captains, Vice Captains & House Leaders
Barns
Calder
Commons
Forder
Fuller
Khanyisani Mthimkhulu (C.)
Shrivar Maharaj (VC.)
Justin Campbell
Connor Fulton
Jordan Goebel
Philip Laurens
Aphelele Mfeka
Austin Ferraz (C.)
Bradley Mc Gregor (VC.)
Asad Ahmed
Awande Chiliza
Max Douglas
Nhlanhla Khumalo
Jared le Court de Billot
Tian van Heerden (C.)
Ntando Zwane (VC.)
Ross Barker
Ebrahim Dhoda
Mpilonhle Mbambo
Simnikiwe Nkosi
Joel J v Vuuren
Keagan Goddard (C.)
Aidan Carter (VC.)
Luyolo Mdletye
Albert Pieterse
Sisanda Shezi
Dylan Steyn
Kusaselihle Nsimbi
Matthew Ponter (C.)
Yamkele Katide (VC.)
Sandile Cele
Dylan Craig
Andries Knoetze
Ashton Woolridge
Cameron van der Vliet
Lamond
Nicholson
Pape
Snow
Strachan
Ross Finnie (C.)
Liam Prinsloo (VC.)
George Delport
Tevin Govender
Sindile Malila
Roan Marais
William Muggleton
Bayanda Luthuli (C.)
Keegan Kisten (VC.)
Matthew Chapman
Gregory Cooke
Mnqobi Fihlela
Thomas Koller
Alex Barnard
Cameron Hankinson (C.)
Johnathan van Zyl (VC.)
Malik Hendricks
Zachary Moore
Tsepo Motuang
Wian Viljoen
Wade Pillay (C.)
Shaylin Pillay (VC.)
Ezra Everton
Thandazani Sithole
Gareth Westerdale
Kuhann van den Berg
Zibusiso Shongwe (C.)
Sean Gibson (VC.)
Dashlin Naidoo
Njabulo Mazibuko
Cameron van Rooyen
Thandolwenkosi Zuma