A Blast from the Past
An exchange student spends a week in the life of a College boy (back in the 80s!)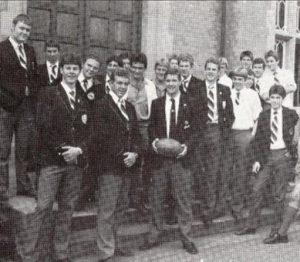 Whilst leafing through old records, Alan Adcock (Class of 1982), father of Neil Adcock, the South African cricketer, came across photographs taken in front of Clark House of him and his class mates as well as an exchange student, Will Bettedorf.
Alan took the initiative to track down Will and received a warm response!
A little bit of background: Will Bettendorf attended Scottburgh High as an American Exchange Student. His teacher at the time was Piet Van Der Watt (a former College teacher). Piet's younger brother was in fact Andy Van Der Watt, a former Springbok rugby player. In 1982, Piet arranged for Will to attend College for a week through an exchange program. He spent the week living and breathing College life as a border.
When Alan made contact with Will earlier this week, now based in Tennessee USA, he received the following response:
"Hello Alan – thank you for reaching out to me via my wife.  Yes, that was me!  How in hell did you come up with that search?  Full points to you for that. 
I really appreciate the message and photo.  I do not have that photo and can hardly remember it, but do remember the great time I had vising PMB and going to college with you guys! Great days and the best experience of my life to go to SA. 
 I keep in touch with a few people from my time in SA.  Most are outside SA now but a few have stayed to try to keep things on keel!   I have returned twice.  Once for a wedding and another time during a work trip to Cape Town.  I flew up to Durban, rented a car and drove around my old town, Scottburgh [on the coast].  Would love to bring my wife and kids for a trip to see my old stomping ground!"
Alan and the OCs from the class of 1982 are planning to invite Will to a 40-year Reunion event and we'll be sure to circulate some pictures of that for posterity!