A mighty OC achievement across the ocean
Blakeway and the Big Blue!
On Saturday the 6th of February 2021, Grant Blakeway, a Maritzburg College Old Boy from the year 1980 docked in Antigua after completing the Talisker Whiskey Atlantic Challenge. A challenge that saw him spending 56 days, 3 hours, and 29 minutes at sea, alone in a small boat… voluntarily.  His arrival back on land was widely broadcast and elicited emotion and pride in all who were watching. College Old Boys from all over the world were glued to their screens, watching keenly for updates. Upon the completion of this great feat, some of the Maritzburg College Old Boys' Association Executive Committee members shared their thoughts and pride at this huge accomplishment by their fellow alumnus.
"Seriously impressive achievement" – Peter Rodseth
"A uniquely epic story" – Warren Smith
"Massive effort!" – Andrew Clayton
"At 59, shows us up" – Grant Little
Indeed Blakeway's praises were sung far and wide in the old boy community. Warren Smith even raised a Talisker on the rocks in honour of Blakeway's courage and resilience. Even the Reunion Conveners' Whatsapp group was alight with messages of congratulations and respect, with one of the conveners commenting that even as a student at College, Blakeway always put "service over self." This could not be more true, and is the answer to the question of why anyone would voluntarily spend almost two months at sea, alone. Service.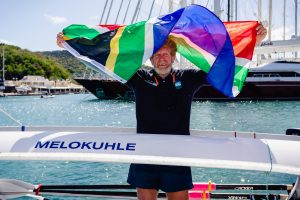 Grant's decision to go on this journey was fuelled by his love of the ocean and the looming threat pollution poses to the ocean and all the life it harbours. "This unique rowing event is supported by millions of people around the globe. People like you. People like me. People who can speak up, and step up, to help save our seas. It doesn't matter which part of the world we call home; we're all connected by the Big Blue," Blakeway wrote in a personal message on the Backabuddy website. To date, Grant has raised over R30 000 for his cause and shows no signs of slowing.
If you would like to support this worthy cause, visit https://www.backabuddy.co.za/champion/project/melokuhle to find out how. You can also hear more about and from this inspirational protector of our seas by keeping a close eye on all our platforms. Not only are we planning a final article with Blakeway to discuss his experience and learn a little more about him, but we also have a webinar in which you can hear from the man himself in the pipelines.