A Pilot's Perspective
A message from OC Luke Rattray (Class of 2009)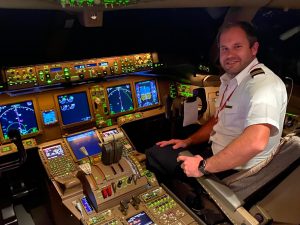 We live in terrifying and exciting times at the moment. It's a bit of a conflict; on the one hand the world and the economy are suffering a tremendous blow from an invisible enemy, and on the other, the Earth seems to be cleansing itself.
For the first time in a very long time, places like India and parts of China have seen blue skies and clean, clear air. Animals are roaming streets without threat, and people are starting to reset their thoughts and perhaps challenge their daily routines. People are looking at the world and the destruction caused and are perhaps starting to consider the bigger picture.
I have loads of great memories of my days at College and could write for hours, but one in particular, and one closest to my heart is when we played against Affies in Pretoria for 2nd XV – Sasha. Rugby reminds me that no matter how tough or intimidating your opposition, working hard and standing by your brothers as a team will lead to triumph and success. In this particular game we managed to fight a hard-fought battle and came out as victors. That was a lesson I think is very applicable to the current times and the difficulties we are facing. We as a world, a nation and a community, will need to fight this battle with everything we have and come out stronger and better on the other side. We all need to do our part in these struggling times and work as a team. College molded us all into the gents we are today and the red, black and white fire that runs through our veins will forever be a part of us.
I am currently a First Officer on the Boeing 777 with Cathay Pacific based in Hong Kong, and have been with the company 5 years. I am very fortunate to work alongside some incredible people (including a few OC boys!); it's a company that in these times, does everything in its power to reassure and support us. We agreed, in February to take a pay cut as well as unpaid leave to help buy the company some time given the devastating effect the virus has had on air travel as well as the stress and uncertainty created as a result within the aviation industry as a whole. Currently, airlines across the world are (in combination) losing approximately USD $500 million per hour. A scary figure begging the question: how can we recover from this? Luckily Cargo is busier than ever. Cathay Pacific, along with a few other airlines, has been given approval to fly the passenger aircraft with freight on the seats, helping to get much needed medical supplies around the world.
I'd like to end off with a quote that has inspired me as an aviator and helped me truly understand that there is a time and a place for everything. We all want to push the limits of life but we don't always sit back and see the bigger picture.
 "If you want to grow old as a pilot, you've got to know when to push it, and when to back off." – Chuck Yeager
In these current times we all need to sit back understand lockdowns are in place for a reason and this will be resolved in time. I urge you all to please stay safe, follow the precautions laid out in whichever country you are in, and enjoy the time with your families. We will get through this.