Acknowledging a past College OC
Pete Rodseth pays tribute to the late Peter Ripley-Evans (OC 1957)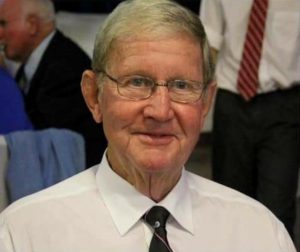 It with great sadness that we report that one of College has lost one of its best loved and most successful sons, Peter Ripley-Evans.  Rip, as he was affectionately  known as by most folk, passed away on 18 August  after a brief illness.
Rip was an engaging man with a tremendous personality and sense of humour, and a popular figure wherever he went. One was always greeted by him with a warm smile and his  trademark twinkling eyes, and he was always genuinely pleased to see everyone. He had an incredibly wide circle of friends as his  magnetic personality naturally drew people to him. Whether in the work place, and especially in his many years at Gilbey's, or in rugby circles, Rip was universally loved and respected. A wonderful family man too who was incredibly close to his children and grandchildren.
True to his Welsh heritage, Rip had a great singing voice and was a leading light in the Durban men's choir for many years !
But Rip was a rugby man through and through, and this is where his real passion lay. He was in his early days a prop at College, before switching to flank in the 1956 1st XV and then captaining the 1957 College 1st XV also at flank , where a team mate was his great mate Fintan " Jungle " Jackson, later to become his prop partner in the Natal  senior side for many games too. Skonk described Rip as having played outstanding rugby for College and as being a captain that got the best out of his team.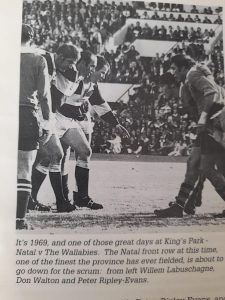 Rip captained Natal under 20, before winning the first of 54 senior Natal caps as a 20 year old prop in 1961. In a Natal career that spanned 8 seasons, before he retired in 1969, Rip was a member of one of the finest front rows Natal ever fielded along with Don Walton and Willem Labuschagne. He was a stalwart at Durban Collegians playing for both Collegians and Natal with a number of other legendary Old Collegians such as Brian Irvine, Fintan " Jungle ' Jackson, Tony Egner, Jeb Mc Intosh and the genius Keith Oxlee. He played for Natal against sides like the British Lions,  the British Barbarians, the Scottish Borderers, and in the memorable win against Australia in 1969, amongst  others.
He was a highly respected rugby player who was cherished by his team mates as much as he was respected by his opponents. Fiercely competitive on the field, he was always ready for a beer and to mingle with opponents after a game and to share bonhomie with them.
Rip was a passionate Old Collegian, and was often called on by Skonk, both to assist with coaching  and to at times watch the junior teams to scout for talent. He was for many years Master of Ceremonies at Durban branch dinners, a function he carried off with great aplomb and his own inimitable style of wit and charm that had the room under his spell. He was often seen on the side of the field when his son and grandson played for College, and almost always behind the poles at the swimming pool end  at College/ DHS fixtures, providing unwavering support for College over many decades. His son Greg is also an Old Collegian ( class of 1983 ) as is his grandson David ( 2018 ).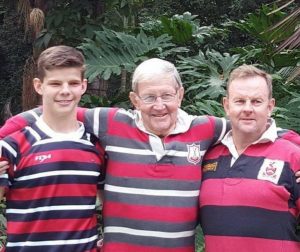 Rip leaves a son Greg and daughters Hayley and Jo, his wife Elma and his grand -children.
This was a truly remarkable man who will be sorely missed. RIP Rip, College salutes you for the man you were and the example you set to everyone."