Blast from the Past
Boyd Edmondson's story continues…
As the first part of our article series covering Boyd Edmondson's incredible achievement of securing the position of Captain at Emirates Golf Club in Dubai, we have asked him to write to us a little about his experience of College. This week, Boyd takes us on a journey which begins before his time as a College boy did when both his parents worked at the school and lived on the campus. He goes on to talk us through his time as a student, the people who influenced his life, and the strength of the bonds he created as a student, which remain unbroken today.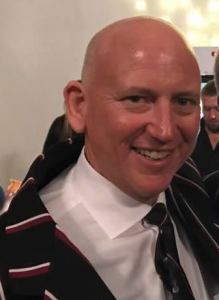 My first recollection of College is most certainly the joy I felt getting home from primary school during rugby season and having the freedom on the College estate to get on my blue bicycle, which most certainly had white "tires," and heading down to Goldstones to watch the 1st XV rugby side practice under the wonderful direction and guidance of Skonk Nicholson. I am convinced I made an absolute nuisance of myself by hanging around probably far longer than I should have, but the gentlemen that Skonk was, this was never an issue for the great man – in fact, occasionally, if there was a ball that had seen better days, Skonk would lob it across to me to take home.
My father, Dave Edmondson, had a long association with College, from teaching Geography and Biblical Studies, being the housemaster of Clark House, to also having had the honour of coaching the 1st XI cricket side from 1972 to 1976, as well as the U14 A & B teams over the same period. My mother Ann, was also the SAN sister for many years at College. It was a real privilege living on the College Estate.
There was no greater honour, than in 1983 when I joined my brother Craig as a pupil at Maritzburg College. Whilst very nervously entering the school ground as a pupil, there was most certainly some fear, fundamentally because there would be no excuse for me to fail team testing with a brother who was a prefect, and of course the pressure to make sure that I did not forget that P.E. kit whenever it was required. When both my brother and I arrived at College, we were automatically known as "Dave 'Jumbo' Edmondson's boys." Most of the staff were house friends to my parents, and so of course any indiscretions would undoubtedly be reported back to the old man!
There was no greater privilege than being taught by the likes of Keith Guise-Brown, Alan Pridmore, Mike Bechet, Colin Heard and so many more. Respectfully to all my teachers though, the man that made the most significant influence on my life, who shaped my life, taught me to handle both disappointment and success, mentored me, and on a couple of occasions disciplined me (ouch) was Dave Anderson. It is the likes of Big Dave, who personify, why College is what it is. Our excellent staff at College understand that X-Factor and all who have walked the Halls of Maritzburg College know precisely what I mean.
I had lofty levels to achieve with my family's involvement with College and none loftier than my brother Craig receiving the Nora Cooke award for Altruistic Service to the school, along with his sporting and academic achievements at College. There was also that daunting responsibility to live up to the reputation that my father had established at College.
The magnificence of College though, is that while I did not achieve the dreams of playing for any 1st Team and academically I was not the brightest, I always felt part of the College family and that's what makes College such a special place. To this very day, our '87-year group is still in contact with each other. We had a fantastic year group, but out of all the Class of '87 achievements, the most significant achievement has always been the fellowship, friendship and support that we still share.