Call to our OCs to support the Class of 2020
Request to donate an OC Tie
For many years now the OC Exec has been grappling with the fact that our older Old Boys make and have, very little contact with the younger Old Boys. We view increased contact and sharing between generations as such a critical ingredient to the success of our Association; otherwise how does our history, steeped in traditions and filled with legendary tales of boys and teachers of old, get passed down and how do we draw on the wisdom of the grey-beards? We know that once bridged, this is a powerful ingredient of our Association to ensure that our OC network remains the special institution that is…but how exactly do we connect across the generation gap?
With this in mind we have devised a strategy that we trust will become an endearing tradition over time. We hope that you too see the benefits, and will grasp the opportunity to become a founding father along with us:
The 6th formers are about to complete their school career and be inducted into our Association at a prestigious ceremony in October. One of the key elements of the evening is that they are handed their Old Boys tie.
We are asking you to sponsor at least one tie to a new member. The cost is just R150 per tie. Please click on THIS LINK in order to be part of this groundbreaking initiative.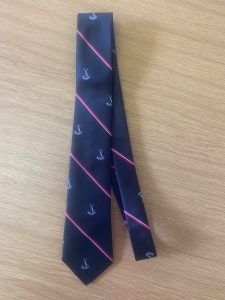 The ties will then be gifted to the new OC with a personalised message embroidered into the tie:   "Gifted by XXX", and your year of matriculation. It is also possible to remain anonymous, or to request a donation to a particular boy (subject to a few restrictions).
We will encourage these men to seek out their donors in the future. This will help to build those bridges by meeting you at reunion day, making contact each year, buying you a beer, asking you about your time at College, discussing life choices, or simply to say 'hi' and 'thanks'.
Who knows where this will lead, but we are asking that you, our valued Old Boy, do your bit to help invest in these fine young men of the future. To welcome them as part of our Old Boys Association which plays such an important part of this country. These are the future of our Association, our Country and our planet.
It was RD Clark who penned these words over a century ago – and they still ring true today.
"This College is destined to take no small part in the nation-making of South Africa.   The present of to-day will become the past of tomorrow, and will in turn assume the halo with which beneficent Time will soon invest it.   If each generation worthily runs its lap, this institution cannot fail of a great and a glorious history. 
 My constant and heartfelt prayer in that regard is, 'So mote it be!"
Warmest Regards
Grant