Celebrating Long Serving Staff at College
Recognising 20 & 30 year Long Service Staff Awardees
This past week on our campus we acknowledged those of our staff who have served the school with distinction over the past 20 to an incredible 30 years. They have displayed many of our core values,not least outstanding commitment in their contributions to College over the years.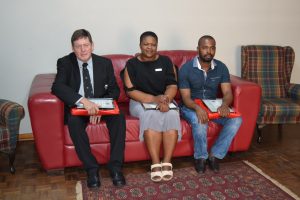 Piet Snyman 2000 to 2020 (20 years)
Piet Snyman is a devoted Christian and a loyal friend, a big 'heart' person who gives of his best in everything he does. In his time at College he has served as a very capable and successful sports coach of our rugby 1st XV, Grant Khomo, cricket and 1st team golf teams. It is this latter role now that he serves together with Daryl Trodd successfully leading our 1st golf team to the SA Schools nationals two years in a row. Piet is a superb and committed mathematics teacher, a former Housemaster of Elliott House and current duty master, and the HOD Pastoral Care. We are very proud and grateful for the 20 years of service Piet has provided.
Adelaide Gasa 2000 to 2020 (20 years)
Adelaide, fondly known as Addie, has worked at The College Shoppe since the very first day the shop opened in June 2000, working herself up into the Cashier position in the shop.  She is passionate about the shop and her job and has College's greater interests at heart. Until 2012, when the shop closed the tuckshop and concentrated only on the uniforms, Addie supplied muffins and chocolate crunchies, much to the boys' delight.  She has carried on with her baking business supplying the College Corner Tuckshop.  She has a wonderful rapport with the boys, staff and parents which serves her very well in her position. We are very proud and grateful for the 20 years of service Addie has provided.
Bigboy Selby Mkise 2000 to 2020 (20 years)
Boy joined College 20 years ago as a labourer. With his very pleasant and positive attitude we realised he had more to offer College and when our oldest former living staff member Joseph Hlela retired as our key holder & caretaker, he was offered the opportunity on the GB payroll. Five years later he was appointed to a state-paid post serving this role with diligence and conscientiousness. We are very proud and grateful for the 20 years of service Boy has provided.
Wellington Mbense 1990 to 2020 (30 years)
Wellington has worked in our BE kitchen for the last 30 years, with his main role being to set up for the many and varied functions. Over the years, with his happy face and wonderful ever-cheerful and helpful personality, he has become known to both the boarders, staff, parents, sports coaches local and from all over the country and the many visitors to our campus. We are very proud and grateful for the 30 years of service Wellington has provided.
Milton Mtembu 1990 to 2020 (30 years)
Milton as he is commonly known by all at College, has always been a willing and keen member of the support staff. Over the last ten years he has been in charge of the upkeep of Dalry Park cricket field and we have often been commended on the good condition of the wicket as well as the surrounds.   We are very proud and grateful for the 30 years of service Milton has provided