CULTURE AT MARITZBURG COLLEGE
"A nation's culture resides in the hearts and in the soul of its people," – Mahatma Gandhi
In our efforts to encourage the holistic development of our boys, we are proud of the strong cultural and creative programmes we offer. Boys are encouraged to participate and grow within these disciplines and many a College boy has gone on to pursue a career in the Arts.
Visual Arts, Dramatic Arts and Music are offered as academic subjects as well as co-curricular activities for boys who do not necessarily wish to study them formally.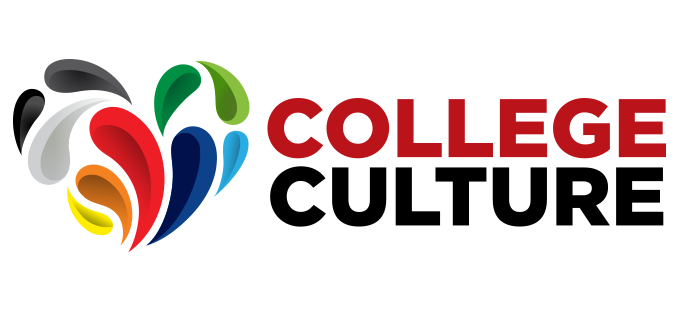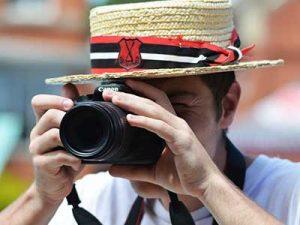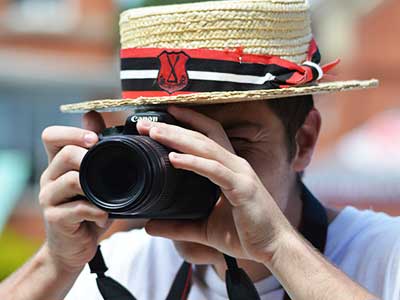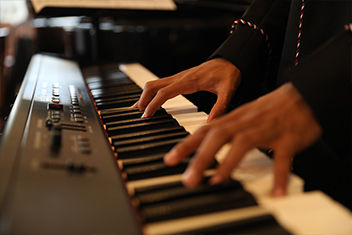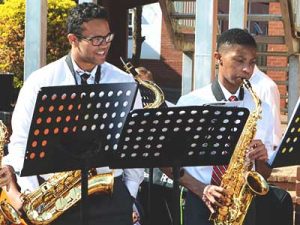 "Hang jou drome in die wind sodat hulle kan leer vlieg." – Daisy Kind
The main purpose of the Afrikaans Society is to: help the Maritzburg College boys to do better in Afrikaans as a subject, to enjoy Afrikaans and to participate in a lot of activities such as: plays; poem competitions; writing competitions; traditional dances & traditions and projects to help and support other people .
The Afrikaans Society believes that if you really make an effort to engage in different cultures, the people of South Africa will understand each other better. Gerda Talke is the MIC and Megan du Plessis and Gerhard Steyn (doing Tienertoneel) are the teachers involved in the society.
"Every artist was first an amateur." – Ralph Waldo Emerson
Visual Arts at Maritzburg College is an ever-growing and evolving department. Art Club provides boys with the opportunity to pursue this passion while developing their skills in a variety of mediums, including drawing, painting, printmaking and sculpture, as well as gaining exposure to many new forms of art. Boys who take Visual Arts as a Matric subject also attend Art Club, either joining in on the afternoon's creative endeavor or working on their Practical Assessment Task for the term. This is incredibly beneficial for our Visual Arts students as they can put in the extra time needed while benefiting from the input of a teacher after hours.
Mark 8:36: "For what does it profit a man to gain the whole world, but to lose his soul."
We are very proud of producing well rounded boys here at Maritzburg College. Part of that process is the spiritual wellbeing of the boys. In the world today there is a great deal of temptations, and artificial spirituality. The devil's greatest trick was convincing the world that he doesn't exist. So we aim to prepare our boys through leadership from the Holy Spirit, to develop a gift of discernment, seeking wisdom through the Word of God. So that dressed in the armour of God (Ephesians 6) they can boldly proclaim the name of the Lord Jesus Christ from the rooftops, should they so choose, or just in their quad, or dorm to begin with. Christ followers are being persecuted globally and the Bible is being banned everywhere. So we count it a great blessing to be able to fellowship and to enter the presence of the one true God, here at our great school, a Christian school, Maritzburg College.
Be bold, be strong, for the Lord your God is with you- Joshua 1:9
"Don't raise your voice, improve your argument." – Desmond Tutu
The Debating society offers the opportunity for boys to explain and persuade skilfully, while engaging with current and sometimes controversial topics. Debating teaches boys how to present an argument confidently and with clarity, how to think on their feet, how to listen, and helps develop excellent all-round communication and life skills. It is quite an interesting observation that good debaters very often are also top achievers academically and also achieve well after tertiary training.
"All the world's a stage, and all the men and women merely players," – William Shakespeare
Maritzburg College's dramatic arts programme includes the staging of annual productions, offering our boys the opportunity for creative expression, personal enrichment and the joys of performing on stage. Whether it's acting, directing, dancing, musical performance, stage management, lighting or sound, being involved in dramatic productions is a very popular option for a large number of our boys. Annual productions include either a large musical, a full school play or a musical revue. The true value of the dramatic arts programme at Maritzburg College is the development of confidence, collaborative skills and creativity.
Dance is an integral component of College Cues. That Funk and Dance@Kearsney are two of the various platforms in which we participate
"eSports will rival the biggest traditional sports leagues in terms of future opportunities." – Steve Bornstein
For those who don't know, the term eSports refers to the organised competitive play of certain computer games. eSports is widely-and increasingly popular across the world. At College, we put together teams for a variety of eSports titles, such as Dota 2, League of Legends, Counter Strike: Global Offensive, Overwatch, and Hearthstone. We play against schools from around the country throughout the year. It is important to note that boys involved need to have a computer capable of running the game in which they would like to compete.
"It is the service we are not obliged to give that people value the most." – James Cash Penney
First aid is defined as the actions of a first responder in an emergency and/or accident situation. First Aid Society at Maritzburg College is all about affording the boys an opportunity for personal development and to empower themselves with the skills to help others in an emergency. The boys who join the group gain not only an understanding of how to help in a range of medical emergencies, but a number of invaluable, life-long skills.
Boys can choose to complete a Level 1 course in First Aid and a group of approximately sixteen First Aiders do duties at all the rugby, soccer and hockey fixtures at Maritzburg College.
"It is better to follow one's own dharma, though imperfect, than the dharma of someone else, even though well-performed. Better is death in one's own dharma; another person's dharma is fraught with fear," – The Bhagavad Gita 
The Maritzburg College Hindu Society has a routine which includes an opening prayer, a discourse and discussion. The discourse alternates between each form to ensure that all boys participate. They enlighten us on topics like Hinduism, Hindu festivals and its significance and values. These also tie in with their morals, values and teachings at College.
We recite songs which the boys have copies of and we recite it while listening to the audio. The boys learn prayer and song each week. Boys are encouraged to bring their prayer so that we all can learn.
"Service to others is the rent you pay for your room here on Earth." — Muhammad Ali
The Interact (Outreach) Society at Maritzburg College currently involves approximately 30 pupils who give of their time voluntarily. Interact stands for "Service Above Self". We are also under the guidance of the Azalea Rotary Club of Pietermaritzburg.
Interact members meet each Monday at lunch break. We look at assisting and providing services to the communities in and around Pietermaritzburg. It has also created a convivial environment for the Interact boys, from prefects to second formers, to get to know one another whilst giving of their time.
"It's none of their business that you have to learn to write. Let them think you were born that way." – Ernest Hemingway
MC-Ink is Maritzburg College's creative writing society. The name hints at the word-play loved by the members – our combined passions of writing, reading, conversing and learning are given a creative and dynamic space in which to grow. MC-Ink meetings serve to provide inspiration and guided development to offer creative learners the opportunity to improve their writing while having fun. We are always on the lookout for relevant competitions and help the boys with their submissions.
"Iqra – Read! In the name of your Lord who created (Surah Al'Alaq)" – Quraan
The fundamental aim of the Muslim Students Association (MSA) is to fulfil the needs of Maritzburg College Muslim student community. The purpose of the association is to encourage constructive relationships between Muslim and non-Muslim students and to break down social, racial, language, class and other negative barriers.
The primary aim is to help students practice the Islamic way of life and those issues which affect Muslims locally and around the globe. And to increase unity within the student community through social events like talks, discussions, and other social activities.
These activities will help the student population of Maritzburg College to clear up misconceptions about the Muslim religion, culture and belief. The MSA is open to all students at the school keen to find out more about the Muslim way of life.
The MSA is dedicated to social justice, human rights, nation building, transformation, honesty, rule of law, integrity, quality education and unity in diversity. At Maritzburg College, the management respects the rights of every religion. Hence, as Muslims we are allowed to pray, go for Jumuah Salaah to the nearby Mosques and even to have and run a Muslim student association.
"Without music, life would be a mistake," – Friedrich Nietzsche 
Music has always been well-loved and supported at Maritzburg College, but with the establishment of a formal Music Department in 2014 the programme has served to further the boys' opportunity to learn, practice and participate in the creative musical process. A wide range of musical instruments and teaching is on offer within the department. Our Music Department has a strong tradition of choral music and boasts two choirs. From the success of 2017, with the choir attending the world choir games in Tshwane, there has been interest in expanding the horizons of the boys.
"To me, photography is an art of observation. It's about finding something interesting in an ordinary place. I've found it has little to do with the things you see and everything to do with the way you see them."— Elliott Erwitt
The Maritzburg College Photography Club allows boys with a keen interest in photography to practise their skills, both within the College environment and externally. The Club holds regular meetings where the work of the boys is discussed and they are taught ways to improve their photography, as well as some of the technical aspects of their cameras.
The Maritzburg College Photography Club Facebook page allows the boys to share their work with the public and their work is credited with their names. Various competitions are run for 'shot of the month', and boys are able to showcase some of their work. The Club is aimed at boys who are keen to learn the art of photography, and look towards capturing "that special moment".
"To enter a theatre for a performance is to be inducted into a magical space, to be ushered into the sacred arena of the imagination." – Simon Callow
The Sound and Lighting Society at Maritzburg College is based around the boys learning how to do professional sound and lighting, as well as the art of working in theatre.
The boys in the society are encouraged to take part in the College productions to provide technical support and backstage help. They learn, in the beginning, how to do simple sound setups and lighting setups all the way through to understanding how to use the school's advanced lighting and sound desks.
We currently run a Allen and Heath QU 24 Mixer and Behringer XR18 X Air Digital Sound Mixing Desks as well as a Strand ML250 lighting desk in the Olivier Cultural Centre. This means that the boys have the opportunity to learn the basics of professional lighting all the way from incandescent lighting to LED and Intelligent lighting.
The boys in the society not only learn a technical understanding of theatre production, but also theatre etiquette and a general understanding of how a theatre runs, as we run all our shows on a professional basis.
"I think it's fair to say that personal computers have become the most empowering tool we've ever created. They're tools of communication, they're tools of creativity, and they can be shaped by their user." – Bill Gates
TechSquad involves a wide range of computer related activities, from computer maintenance to computer room duties, as well as community outreach and involvement. Boys in the society commit themselves to helping others with their computer needs, which includes both teachers and boys who need critical help with computers in order to fulfill their work and research requirements. There are three core functions within TechSquad: Operations, Training and Outreach.
"Creativity takes courage," – Henri Matisse
The opportunity for creative expression at Maritzburg College encompasses Visual Arts, both within the curriculum and as part of our extensive co-curricular programme. Encouraging imagination, creativity, conceptual thinking and personal expression in practical contexts, Art serves to enrich the lives of the ever-growing group of boys at College who engage in the programme. Maritzburg College is privileged to have a well-equipped Visual Arts Department, offerings boys the opportunity to explore a range of mediums, including drawing, painting, printmaking, ceramics and sculpture. This co-curricular programme affords the opportunity to pursue this passion while refining practical skills, as well as the development of the ability to communicate ideas and feelings through the medium of art.