College hosts the Carnival Sideshow
College hosts the Carnival Sideshow and other Magical things…featuring Brendon Peel & Li Lau
By Z Nzimande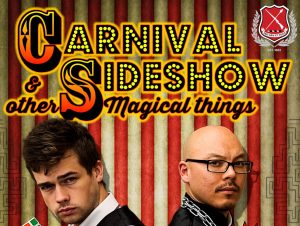 The recent Carnival Sideshow was absolutely captivating; every second was memorable with crazy antics that pushed scary boundaries, while at the same time remaining authentic.
The 2nd night held in the OCC came alive as College boys came to see the mentalists at work, after getting a preview in the school quads during the day. The show lived up to all expectations with insane stunts such as eating glass, people walking on glass, breaking cinderblocks on people's chests, one brave man hammering a nail into his nose, and an even braver man pulling it out.
Craziest Trick of the Night
This was when the magician was tied to a chair and handcuffed to a board with a moving machine saw on the end of it. Another man, who was blindfolded, had to unlock a box and then find a key that would unlock the handcuffs by feeling only the ridges of the key. If they were not successful, then the machine saw could have actually amputated the magician's hands off. It was very scary and exciting to watch!
The show kept everyone on their seats, with peculiar and rare performances. The crowd watching experienced the full gambit of emotions from shocked, scared, excited and most importantly entertained.
Thank you to Brendan Peel and Li Lau for an amazing event, and all the staff who helped make this show possible for us.