College OC at SAA reaches out to help a brother in need
Recently, the School and MCOBA were made aware of Hayden Driemeyer, a College OC (2009) who had been involved in a serious accident in the USA. His family put out a plea for anyone who could support getting Hayden home, back to South Africa. College OC (1985) Mike Usher saw the story and responded in a truly outstanding way, confirming that the unique College Brotherhood bonds formed in the five years at our School – really are   #FiveYearsForLife
It all started with me seeing Fran's plea for help on the MCOBA Facebook page. I have a 24-year-old son, Angus, who lives and works in the UK, and the thought of him being injured and alone overseas resonated with me; I could only imagine what his family were going through. I sent Fran a message to call me back and we had a brief chat. I made it very clear that I couldn't promise anything, and would prefer if she didn't make any public statement as I didn't want to raise her or the families expectations.
The first step was to find out what progress had been made, if any, with their enquiries with SAA and where the process had stalled. The family had been unsuccessful in trying to arrange either a commercial flight or a private charter, which would have cost millions. I then contacted the Chairlady of SAA, Mrs Thandeka Mgoduso, and requested permission to continue to investigate the possibility of bringing Hayden home. She agreed and I got right onto it!
I contacted SAA's chief medical officer, Dr Nonhlanhla Sishaba, and asked her what medical protocols needed approval in order to bring Hayden home. I then put her in contact with a Dr Patel who had volunteered to assist. Fran then organised Dr Patel and the specialist in the US to supply all the necessary documentation and medical evidence needed to the SAA medical department. After much deliberation and consultation, we got the go-ahead from the SAA medical team for Hayden's family to purchase the tickets for the paramedics for a return trip and, of course, Hayden's one-way ticket home!
We left for Washington on Monday the 13th and we had two paramedics from Medi Response onboard who were going to escort Hayden home. At Dulles airport after we had cleared customs and immigration, we met Judy and other ladies from South Africans Stuck in the US group. One of them is married to an OC so the Old Collegiate tentacles stretch very far!  Other than being actively involved in helping Hayden return home, they assist young South Africans settle in when they come over for Au Pair jobs etc.
We spent the next 3 days in Washington, which was like a ghost town due to the lockdown. Fran kept me well updated with Hayden's journey. He flew from Florida to Washington on Wednesday, and was transferred to a nearby hotel where he was handed over to the Medi Response paramedics who then assumed responsibility for him. On the day of departure, he was transferred to the airport and issued a ticket.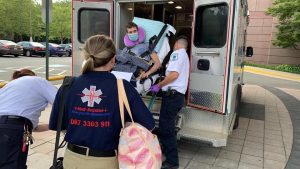 I met him for the first time at the gate and although he was tired he gave me a good College thumbs up which was very promising! He boarded before the rest of the passengers and was made comfortable in business class by Byron Pinetown who was the senior cabin crew member (SCCM) and his excellent team. I provided the family with an update all the time including just before we got airborne.
A special mention once again to the incredible ladies from the South Africans Stuck in the US who were handing out snacks and other goodies to the passengers at check-in to make their long journey home bearable. This kind gesture was not sponsored, and came out of their own pockets. Well done ladies!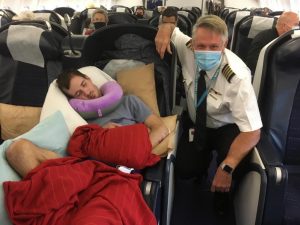 We departed on Thursday 16th on schedule and once we were airborne we sent a quick message to Fran to say that Hayden was on his way and she could announce it family and friends. During the flight I went back periodically and checked up on Hayden and found that he was having a good rest under the watchful eye of the two Medi Response paramedics.
The flight over to Washington was uneventful and on after touchdown I sent Fran a message to say "The Eagle Has Landed". Hayden, although exhausted, was in good spirits and was loaded into an ambulance which then had a 9-hour road trip to Hillcrest in KZN to the rehabilitation facility he was booked into. We said our goodbyes and once again I got a thumbs up! Myself and the crew then headed off to our quarantine facility for the next 6 days.
I spoke to his sister, Fran, on the Monday after we landed and she says that he is out of quarantine and being transferred to the primary neurological facility to begin his long road to recovery. I have promised to keep in contact and when Hayden is strong enough I will arrange a visit.
It was a great privilege to assist Hayden and his family, not only as an Old Boy, but as a human being.
Kind regards
Mike Usher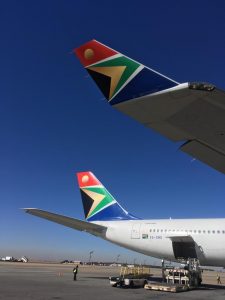 Mike Usher has been a pilot with SAA for 26 years. This particular flight was bittersweet for Mike as it may well be his last flight after a long and sterling career. At a time when airline after airline turned down the Driemeyer family, SAA stepped up to the plate and for this we are all very grateful.