College's OC Staff #3
Meet Matthew Marwick, Deputy Headmaster: Admissions, Discipline & Marketing and OC 1988
Meet Our OC Staff Members
At the MCOBA, we are all about keeping Maritzburg College old boys connected to both the school and one another. However, some old collegians want to have an even stronger connection with the school, choosing to report to College each weekday morning as they did when they still adorned the mighty basher. These men are our old collegian staff members. Over the next few months, we will be getting to know these individuals. We will be finding out what they do for our school, catching up with what they have been up to since their school days, and asking a few fun questions. If you have any questions you would like to direct to any of our OC staff members, email the name of the staff member and your question to: oldboys@collegeoldboys.co.za and it may just be featured in their interview.
PART THREE
Matthew Marwick (1988)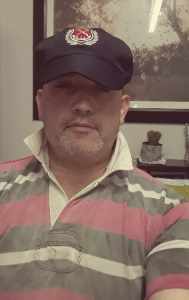 As a 1988 matriculant, Matthew Marwick was a proud member of the 6th Form in College's 125th year standing.  Straight after finishing school, he did his national service in Voortrekkerhoogte outside Pretoria for 18 months after which he secured his Bachelor of Commerce degree from Maritzburg Varsity. Matthew lived in London for what he describes as "two fun and eventful years," got his LLB at the local university and worked as an Articled Clerk and Junior Attorney in Johannesburg until 2004.
As you likely guessed, it was in 2004 when Matthew returned to College as a staff member. Having joined the staff in July of that year, Matthew recently celebrated his 16th "birthday" as a member of College staff. Matthew is currently the Deputy Headmaster in charge of Admissions, Marketing and Discipline; he also teaches History, a subject he says he has loved since being in school himself. More accurately, in fact, Matthew says he has been a History fan since he could first read! Vaguely wanting to be lawyer even back then, Matthew made the tough decision to drop History in 3rd form in favour Latin. Another subject he enjoyed in school days was Economics. He describes his then Economics teacher as having been "invigorating, if at times quite explosive," jokingly adding "Maybe that's where I get it." Believe it or not, teaching and heading up admissions and discipline are not the only things this powerhouse brings to the table for College. Being a history fanatic, Matthew says College's history and heritage are particularly dear to him and so he's grateful for his role as Chairman of the Archives Committee, which keeps him occupied with various stimulating projects which he says "often involve long-dead Old Collegians on distant battlefields." Matthew also sits on a few committees, the Old Boys' Association committee being one of them. That is not where it ends. He also works closely with College Business and coaches one of College's most-loved rugby sides, the 8th XV who are affectionately known as the mighty Mgodoyis.
When Matthew is not working in any of his various roles at Maritzburg College, he enjoys camping, pellet-gun shooting and wrestling which he says involves him taking on his two boys. His favourite way to spend his time though, is with his wife Kirsten and their two young sons who Matthew describes as "quirky." The older one of the two, he told us, has a Viking name "our original surname was 'Myrr Vik'" and the younger one a king of England "I have high hopes for these little blokes" he adds.
We asked Matthew three fun questions:
Having been in an authoritative position for so long in the school, do you have any fond memories of your very first year as part of College when you had no authority at all? (Second Form)
When I started as a 2nd Former in 1984, I found College to be a strange and wonderful place, where wild-eyed, hairy "men" roamed the corridors, growling and glaring at the juniors. I was, at times, a tremulous do-gooder, but I loved it! Watching rugby on Basher Ridge will always be one of my fondest and most treasured memories. The 1980s produced a number of invincible teams, but the thoughts of my first experiences of "shouting" still make me chuckle. I was thinking about those eventful sessions on Barns only yesterday. A small group of especially rustic Sixth Formers – non-prefects – waged a running battle with us 2nd Formers. One of our number – then a fresh-faced little chap, but now a gnarled old bloke with muscles and tattoos, and someone definitely not to be trifled with – coming in for special "treatment". (OK, so it is not exactly a "fond" memory, but it is one that lingers on grimly nonetheless.)
If you could go back to your days as a College Boy, is there anything you would change? Why?
I do wish that I had been more emotionally mature at high school, to better appreciate the wonderful opportunities that were right there before me – but of course that's a matter of biology and wasn't really within my control anyway.
For many, this year has been the strangest time we have seen. Do you remember a similarly strange time from your school days when the school calendar was disrupted or there was something of this magnitude going on in the world? (A war, pandemic, start of democracy?)
Shoh! My understanding is that College has managed to withstand a host of calamities – from the Rinderpest, to both World Wars, the Great Depression, the changing of the school badge etc. – with relative aplomb. The lockdown and the disruptions of this year – and the massive disappointments felt by so many of the boys – are without precedent in modern times at College. When I was at school, when we as College boys were generally sheltered from the cruel realities of the world we lived in, the biggest calamity was the Great Floods of 1987 – but those were really small beer compared to 2020's tribulations. I suppose only the polio outbreak in the late 1950s, which caused many rugby matches to be cancelled, and the use by the British Army of the school buildings in 1899-1900 offer any real similarities to the "2020 experience". I keep telling myself that we have to "K.B.O." – it is a timeless Churchill-ism that is appropriate in these difficult times. However, you will have to look up what those letters mean!