College's OC Staff #4
Meet Ngcebo Thembela (OC 2003)
At the MCOBA, we are all about keeping Maritzburg College old boys connected to both the school and one another. However, some old collegians want to have an even stronger connection with the school, choosing to report to College each weekday morning as they did when they still adorned the mighty basher. These men are our old collegian staff members.
Over the next few months, we will be getting to know these individuals. We will be finding out what they do for our school, catching up with what they have been up to since their school days, and asking a few fun questions.
If you have any questions you would like to direct to any of our OC staff members, email the name of the staff member and your question to: oldboys@collegeoldboys.co.za and it may just be featured in their interview.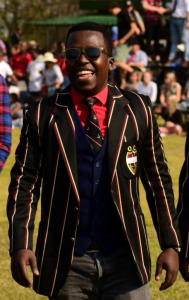 PART FOUR: NGCEBO THEMBELA (OC 2003)
Since matriculating in 2003, Ngcebo has remained in touch with Old Boys from his year. "We have a WhatsApp group with 16 of the 18 African learners in my matric year, it grows every year…next year it's 18 years old," Ngcebo told us.
After matric, Ngcebo went straight into university, studying at Wits, and both Westville and Pietermaritzburg branches of UKZN. He also worked at some powerhouse companies like Investec Bank and Walmart before coming back to Pietermaritzburg to get his most recent qualification from UKZN PMB.
Ngcebo started at College in 2017 and has been back for three years now. He teaches Economics and Business Studies, saying that he has always been interested in both, however one of the two was unfortunately not offered when he was in school. "We didn't have Business Studies back in the day, but I majored in management in University." While he always had an interest in the two subjects he now teaches, Ngcebo says his favourite subject in school was Technical Drawing.
While Ngcebo's teaching is his pride and joy, that's by no means the only aspect of Maritzburg College he is involved in. Aside from running the school's Entrepreneurship programme, Ngcebo is also MIC (Master in Charge) and coach of the Chess team, a member of the school's Social Awareness Council and Deputy Housemaster at Shepstone house, the school's newest boarding house.
When Ngcebo is not working diligently for the good of the College community, he enjoys socializing with close friends and family. Some examples he mentioned are go-cart racing, paintballing, going to the movie theatre, and attending social events. In and amongst all this, he still finds time to run a small business called Str8 Marketing, which currently sees him being involved in Pallet Furniture and Events Management for the SRC of a local university.