College's tribute to a fallen son & former master
Mourning the passing of Win Whitear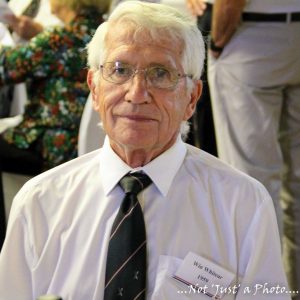 The school mourns the loss of one of its most beloved sons and former masters – Mr WE Whitear, whose passing was announced by his family earlier today.
Born not long after the Battle of Britain in 1940 (which no doubt explains his patriotic first name), Winston Edward "Win" Whitear entered Maritzburg College as a youngster in February 1955, having spent his prep school years at Merchiston.
Win enjoyed a successful time as a schoolboy at College, turning out as a hard-tackling flanker and fullback for Kelvin McIlrath's unbeaten 1st XV of 1959. In his annual report on the team, regarded as one of College's finest, coach Mr "Skonk" Nicholson – whose perceptive humanity Win was to display to a remarkable degree throughout his own distinguished coaching and teaching career – was fulsome in his praise: "A player of great courage. He gave of his best in either position and his first-rate tackling will long be remembered."
After a stint at Merchiston and a long and successful time at the Natal Training College, Win ended up teaching at his Alma Mater for 18 years, running the counseling department for all of that time. He epitomised the qualities of a gentleman and impressed all who came into contact with him – be they fellow staff, a troubled pupil or grumbling parents – with his firm but compassionate style of dealing with schoolboy problems.
In the latter stages of his time at College, Win famously coached the second game (the Amabovu) and finally the third game (the Bush Pigs). With his alternative application of gruffness and disguised playfulness (who will ever forget his use of "lion's fat" to motivate his players?), Win earned the respect and affection of players and opponents alike. His passion for rugby rubbed off on his teams and contributed to the considerable success they achieved.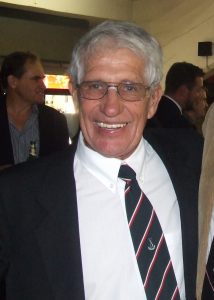 At practice, Win would not compromise on the standards he set, and he certainly did not allow the boys to loiter about. When he spoke they jumped! But the boys loved him – Win was strict but fair and they knew exactly where they stood with him. Year after year, on Reunion Day, they came back to College to pay their respects to their favourite coach.
Win was a schoolmaster in the true sense of the word. He taught by the code of truth and honour. He understood, better than most, the boy who got himself into trouble – Win was certainly no angel himself. But once caught, he expected you to own up. The College boys understood and readily accepted this philosophy.
We, the College community, extend our condolences to Christine and the Whitear family on the loss of a much-loved husband and father – and gentleman of the old school.
Although he has now left us, Win's compassion, sense of humour and unique understanding of young men will remain a lasting memorial to a long life well lived.
Go well, Winston.
Pro Aris et Focis
DR Jury / KH Guise-Brown / MM Marwick