"Don't raise your voice, improve your argument." – Desmond Tutu
Debating society offers the opportunity for boys to explain and persuade skillfully, while engaging with current and sometimes controversial topics. Debating teaches speakers how to present an argument confidently and with clarity, how to think on their feet, how to listen, and helps develop excellent all-round communication and life skills.
League debating at Maritzburg College involves a great deal of work from the boys. The Grade 8 teams are allocated a topic and are also told which side of the topic they will be debating. The Juniors are given a topic and have no idea if they are Proposition or Opposition. The Seniors are given a topic area or a topic if the debates are very close together.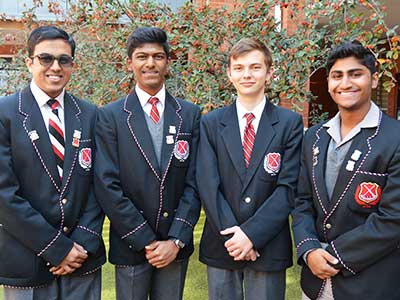 Tenacity and commitment are the order of the day. Some adjudicators enjoy an aggressive approach and others don't. Each debate has only got a 50% chance of being won. Getting the best speaker award is also a much coveted goal.
We also participate in the annual IPPF (International Public Policy Forum) debate. This is a different ball-game altogether as it is a written debate and also an international debate. The participants initially choose whether they will oppose or propose a given topic. This debate then gets judged and 32 teams are allocated and given the proposition or opposition side. This process continues until only 8 teams remain. These 8 teams then do a public debate in New York.
Another big event on the debating calendar is the Model United Nations Debate. College participates by joining up with Nsikayethu Secondary School in Imbali. Each school has two participants and this team of four then represent the country allocated to them and will investigate and bring to the floor issues surrounding a specific topic. The topic is always one of international interest and it is also very topical.