"Service to others is the rent you pay for your room here on Earth." — Muhammad Ali
The Interact (Outreach) Society at Maritzburg College currently involves approximately 30 pupils who give of their time voluntarily. Interact stands for "Service Above Self". We are also under the guidance of the Azalea Rotary Club of Pietermaritzburg.
Interact members meet each Monday at lunch break. We look at assisting and providing services to the communities in and around Pietermaritzburg. It has also created a convivial environment for the Interact boys, from prefects to second formers, to get to know one another whilst giving of their time.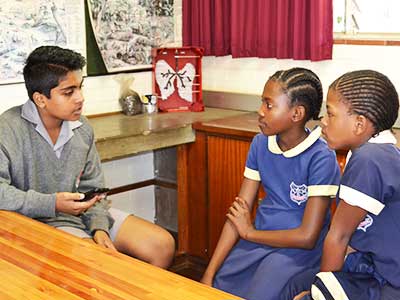 The Four-way Test for all Interactors is:
Is it the truth?
Is it fair to all concerned?
Will it build goodwill and better friendship?
Will it be beneficial to all concerned?
Every Wednesday afternoon, Interact boys lend a hand re-labeling medicines at Northdale Hospital. This way seem to be really menial work, but it is greatly appreciated by the overworked pharmacists!
A group of 15 Grade 7 pupils from Edendale Primary School come to College every Monday afternoon to engage with 12 of our Interact boys in conversational English.