The Maritzburg College Photography Club
"To me, photography is an art of observation. It's about finding something interesting in an ordinary place. I've found it has little to do with the things you see and everything to do with the way you see them."— Elliott Erwitt
The Maritzburg College Photography Club allows boys with a keen interest in photography to practise their skills both within the College environment and externally. The Club holds regular meetings where the work of the boys is discussed and they are taught ways to improve their photography, as well as some of the technical aspects of their cameras.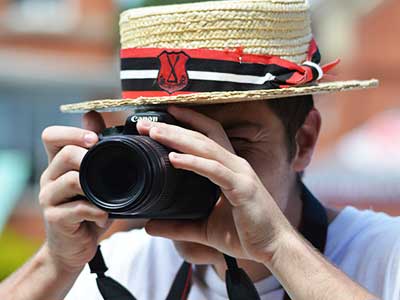 The Maritzburg College Photography Club Facebook page allows the boys to share their work with the public and their work is credited with their names. Various competitions are run for 'shot of the month', and boys are able to showcase some of their work. The Club is aimed at boys who are keen to learn the art of photography, and look towards capturing that 'special moment'. Sports photography requires a longer lens, however boys do not necessarily need their own camera and even images captured on cell phones can contain valuable lessons.
With so many events and happenings constantly on the go at Maritzburg College, the boys are encouraged to capture some of these moments on film. Sporting and action photography is in high demand at College as the media, College parents, boys and OCs all want to see what has been happening at the school.
Boys who have taken photos are welcome to submit some of their best pictures to the Marketing Department who may well use some of them for publishing, for the website, social media etc.
It has been wonderful to see the enthusiasm and dedication of our College Photographers who spend many hours next to the field and around the school to capture that perfect shot! They are constantly learning more about photography with regards to lighting, angles, focal points and shot selection, and they are producing some interesting photos that really capture the moment and not just the action.
Any photographs the boys submit to the Marketing Department are credited if used in the press.