"I think it's fair to say that personal computers have become the most empowering tool we've ever created. They're tools of communication, they're tools of creativity, and they can be shaped by their user." – Bill Gates
TechSquad at Maritzburg College involves a wide range of computer related activities, from computer maintenance to computer room duties, as well as community outreach and involvement. Boys in the society commit themselves to helping others with their computer needs, this includes both teachers and boys who need critical help with computers in order to fulfill their work and research requirements.
With the increase in technology integration at home, at school, and at play, there has been an increase in interest and active participation from our boys in all aspects of TechSquad. It can be said that TechSquad has a vital role in furthering computer science education and in ensuring the smooth day-to-day running of the school computers.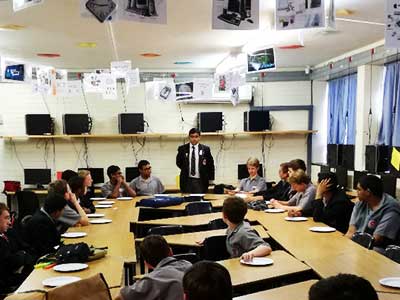 There are three core functions within TechSquad:
Operations: All members are required to perform this vital function. This involves the troubleshooting of troublesome computers, computer maintenance and repair, and hands-on help and guidance for boys who may need a bit of help in order to complete their task on the computer. These services are made available for all students at break times and after school, in College's two computer rooms.
Training: All TechSquad members have the opportunity to give presentations to both TechSquad members and the rest of the student body on different topics, ranging from programming to PC gaming. General training is also open for boys who need assistance with generic applications, from Microsoft Word to Windows Live Movie Maker, who may come in at break times and have a one-on-one training session in areas where they need help. Our door is always open at TechSquad for those who would like assistance.
Outreach: Once a term TechSquad embarks on a community outreach with primary school children at local schools. Our members create training content for topics like 'Introduction to Computers', 'Cyberbullying', 'Internet Safety' and Microsoft Office, and present it themselves to the children. Strong bonds are formed between the two groups during the outreach, and even the TechSquad boys are saddened to see their new friends leave at the end.