Focus on: Courage
A Message for our Boys on being Courageous
Today's theme is one of COURAGE
A few years ago I was fortunate to attend an address by a young motivational speaker by the name of Linda Ntuli. He studied and qualified as an electrical engineer then turned to management consultancy and is now an accomplished and highly regarded motivational speaker, team-­-builder, trainer, facilitator and Life Coach  who operates under the banner 'Rise up and do it'!
Prayer for College
Most Gracious God
Your son Jesus Christ sat among the teachers
In the temple at Jerusalem
Listening and answering questions
And all were amazed at his understanding;
grant to College a like spirit
that all who teach and all who learn
may together grow towards that wisdom
and love which comes from you
through Jesus Christ our Lord
Amen
I would now like to share a few key concepts around the theme of courage with you
Courage is the ability to confront fear, pain, danger, uncertainty, or intimidation. Physical courage is courage in the face of physical pain, hardship, death, or threat of death, while moral courage is the ability to act correctly in the face of popular opposition, shame, scandal, or discouragement.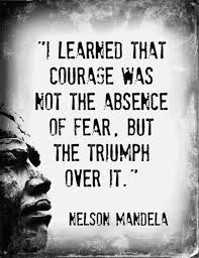 Nelson Mandela says the following on courage:
What does the word courage mean to you ?
Courage is taking responsibility for my own life and to stop blaming everything outside of me for the reason why I am not successful .
Courage is wading into what is MY life and facing what I need to change in my life.
Courage is identifying in my life what is good and building upon it and knowing that what is Not good for me needs to be changed and then working to change it.
Courage is working to see that my educational dreams and goals are realized.
Courage is recognizing the special talents and ability I have to offer my world, my community, my family.
Courage is having a voice for myself .
Courage is stepping out of my comfort zone to be the best that I can be.
Courage is stepping up to the plate of my life and my future.
Courage is Believing in myself.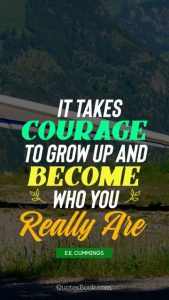 Are you courageous ?
Many of you have over the past 11 weeks have shown signs of courage in a number of ways  without you possibly realising it.
I want you to continue to be courageous as we continue to deal with the implications of Covid-19 and to abide by all the regulations to ensure your own health and safety as well as others.
Finally,  I refer you to a quote by Atticus Finch from the novel 'To kill a Mockingbird' an English setwork on what REAL courage is:
"I wanted you to see what real courage is, instead of getting the idea that courage is a man with a gun in his hand. It's when you know you're licked [beaten] before you begin, but you begin anyway and see it through no matter what.'
I wish you all a very good week
Keep safe and healthy
Pro Aris et Focis