Highlighting Ways to Support Your School
Support Your School
There are a number of really easy ways you can support your school. These include MAKRO and MYSCHOOL cards as well as joining the Litres for Education initiative.
Litres for Education
Litres for Education is an educational trust formed to enable people to reward a selected school through their monthly fuel spend. By registering with an approved Litres for Education (LFE) service station and linking your membership to Maritzburg College, a portion of your monthly fuel spend is given back to the school. A list of approved LFE suppliers is on our D6 communicator under Resources. College's LFE number is 393 – which you need to quote when you fill up. More info at www.litresforeducation.co.za.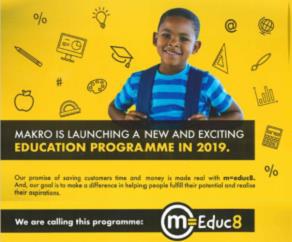 Makro's m=Educ8
Makro launched its new education programme in 2019. Called m=Educ8 the programme is a simple and effective way for schools to earn revenue every time parents purchase anything from Makro. The programme gives financial earnings to schools as a direct percentage of each Makro purchase made. It is very user friendly, easy to join and easy to manage. How does it work? Download the Makro mCard app on your mobile phone and link it to your current Makro card using the number on the card. Then sign up to the m=Educ8 programme. For every R1000 spent by parents, the school earns R5. So please download the app, link your card or get a card if you haven't already done so and help our school.
MySchool
MySchool MyVillage MyPlanet is one of South Africa's biggest fundraising programmes and allows you to make a difference, just by shopping. If your card is linked to College, then every time you use your card at any of our partner stores they'll give back a percentage of your purchase value, on your behalf to Maritzburg College at absolutely no cost to you! Get your free card today. Every swipe counts! Remember that the virtual MySchool card is now also available on your phone, Download for free from the App Store or Google Play.