Induction 2020
MCOBA looks forward to hosting  Class of 2020 Induction Ceremony
The President of the MCOBA, Mr Grant Little, and the Old Boy's Exec. committee looks forward to hosting the Maritzburg College Grade 12's at the tradition steeped, annual Matric MCOBA Induction Ceremony, being held on Thursday 15th of October.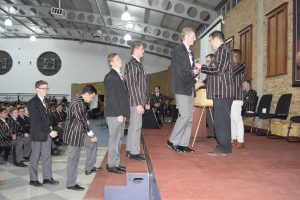 Visualize it!
All Maritzburg College leavers and hopefully all parents sitting in the Alan Paton hall, seated according to safety protocols with regard to social distancing, College TV live streaming to the MC and OC community, as emotion stirring addresses and special speeches precede the official OC tie hand over, and the first opportunity for our 6th Formers to wear the revered and striking stripy Old Boys blazer. This auspicious tradition made possible by the MCOBA and in conjunction with our alma mater, formally and personally welcomes every school leaver into the '5YearforLife' OC brotherhood and worldwide network of like-minded Old Collegians.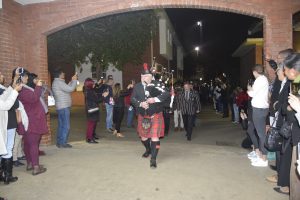 After the formalities, the powerful sound of the highland bagpipe, that stirs emotions and pulls at one's heart strings, will be beautifully played by local Midlands OC, Mr Ian Turnbull (1982) whilst he leads the boys through the school with parents and scholars cheering on the sidelines through Clark House quad to the War Memorial for a final shout as a College boy. We end with the boys in the iconic Victoria Hall where pledges are made to return for Reunion day annually.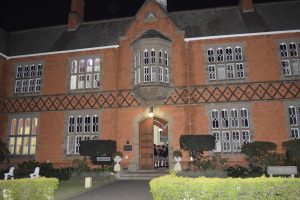 These are moments that will never be forgotten and a fitting end to an awe-inspiring ceremony and time at our beloved College that we proudly celebrate each year in honour of our deeply respected school leavers. This year sees a special addition to the evening which will add significant historical flavour with respect to the boys that have had to deal with a great deal more than they had ever planned for due to the unavoidable Covid-19 pandemic. We salute the boys through a special once off memorabilia item for those in attendance, therefore recognizing and acknowledging the extremely difficult year that they have so bravely handled and maturely dealt with. We look forward to celebrating this much anticipated milestone in any College man's life, together as one. Ant Williamson (1990) Projects – MCOBA
**Please note that as of the 2nd of July 2020, these preparations are going according to plan. Should anything change due to circumstances beyond the MCOBA or school's control, all stakeholders will be communicated with timeously and effectively. ** with regard to Social distancing the boys and parents' safety is priority number 1.
More details regarding numbers in the Alan Paton Hall will follow nearer the time, as we address and follow safety protocols.