Innovative On-Line Afrikaans Learning
Lefra Presents On-line "Fiela se Kind" discussion for 6th form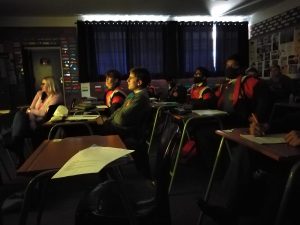 Our Afrikaans 6th formers recently took part in an innovative on-line learning opportunity participating in a countrywide on-line discussion session of Fiela se kind, die drama organised by Lefra Communications and Marketing.  Fiela se kind is an important section of the Literature syllabus (Paper 2) for Afrikaans First Additional Language. 
This unique, first-time event took place on Wednesday 1 July, from 10:00 to 12:00.  The response was overwhelming; all 6th form pupils taking Afrikaans were given the opportunity to attend this on-line session, and five classes accommodated all the boys who were interested.
The discussion session of Fiela se kind incorporated many aspect of the drama, including the historical background, characters, inner conflict of Benjamin/Lukas and many more.
Lefra studios' live broadcast panel consisted of Frans Swart (producer of the Fiela se kind, the on-stage drama), Sharleen Surtie-Richards (the actress who performed in the role of Fiela on-stage and the first movie), Phillru van Achterbergh (the mature Benjamin/Lukas in the 2017 stage performance), Vian Singleton (the young Benjamin/Lukas in the 2017 stage production) and Junaid Anthony (writer of a study guide on Fiela se kind).  Discussions with the actors, short scenes from the stage productions and the answering of questions were included in the on-line presentation.
Our thanks to Lefra Communications & Marketing for their innovative initiative, especially during these unique, challenging times.  Our matric pupils enjoyed the presentation, especially the on-stage scenes in between the discussions, connecting emotionally with the characters and gaining valuable knowledge and understanding of the drama.  We believe this experience will help them in their preparation for the final NSC exams.