Learning under Lockdown Essay Competition
College's essay entry in Top 10
The English Department submitted over 80 entries for the Learning Under Lockdown Writing Competition organised by Professor Jansen. We were the school with the most entries submitted thanks to the dedication of our teachers who read through all the essays from their classes and submitted selected essays on behalf of the boys. Further to this, they also collated the permission slips to ensure that boys do not miss an opportunity to have their pieces selected for publication, along with other young writers from all over the country. What a wonderful opportunity for our boys!
From our list of entries, 49 boys from Maritzburg College were shortlisted for the top 400 out of over 600 submissions sent to Learning Under Lockdown. Their essays have made the final list for an opportunity for publication – either excerpts or full essays. We are also very proud of Grayden Emberton (Form 5), whose beautiful essay made the Top 10 and was read by an illustrious panel of judges including Prof Jansen and Thuli Madonsela. Well done, Grayden! Below is his essay: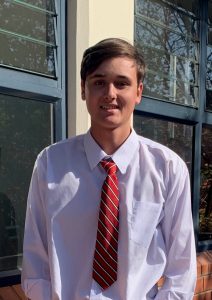 Learning Under Lockdown by Grayden Emberton
I am lying under my duvet watching the sunlight peek through the blinds of my bedroom window. I can tell it is already mid-morning; the sky is blue and the sun is bright but the house is still and quiet. My phone beeps and buzzes: more notifications, more homework.
Every morning my phone vibrates as teachers send messages, upload work, email and try to keep in contact. This is what online school is all about. I have divided my work into three piles: work-completed; work-in-progress; and work-to-do. I thought the system would focus my attention and keep me on track. But it hasn't been successful. The work-completed pile is empty and the other two piles get higher and higher. A bit like the Covid-19 confirmed cases – the numbers climb and climb. There's no sign that the curve will flatten any time soon. 
I use Netflix as a form of escapism to distract me from the loneliness of lockdown and as a way to remember what the world used to be like. But if I am honest with myself it is just another distraction, another way to procrastinate tackling the constantly increasing pile of work in my room.
I watch President Ramaphosa address the nation and appeal to the citizens of this country… and I feel immense guilt that I am privileged to be schooled in these chaotic times when others don't have that opportunity. I know that there are boys in my own school who will go to bed hungry tonight. They don't have data and will not be able to complete their work and submit it on time. These same boys will be worrying if their parents will still have jobs when lockdown is eventually lifted.
In comparison, my worries seem trivial. I worry that I will not finish all that has been asked of me; the piles of homework continue to rise. My head swirls with thoughts of when schools will re-open and we can return to normal. What if I have to repeat this year of school? I miss my friends and the social interaction. I miss my teachers and how we engage in class. I find it difficult to concentrate and cover the work that has been set. Every day I try to set aside a few hours to work diligently, be conscientious, and practise self-discipline. But most days, my mind is preoccupied and is set adrift.
I have tried to adapt and some days are better than others. I have moments when I feel grateful for this time with my family and the flexibility that lockdown has provided. I want to feel like I'm in control of the situation but my eye catches the pile of books on my desk and I sigh despondently. My phone buzzes and beeps. I am desperate for routine and structure.
Buzz, beep, buzz, beep. My phone vibrates and I know I must rise and conquer today's mountain. The buzzing reminds me of a swarm of bees and the Queen – Corona – with her crown of thorns, is agitated, irritated and angry. The hive is abuzz and she is calling the shots. We are at her mercy and there are no choices. We must obey her every command or we will succumb and perish. Life as we know it might never be the same.
I get up and shower. Today, I will tackle that pile of work. There's a Zoom maths lesson at 1pm and I must sign-up for the Accounting Olympiad before registration closes. There's trigonometry to finish and a geography assignment to submit.
Somewhere, kilometres away, my teachers are locked down at home too. They try to keep us motivated and inspired. Their attempts to stimulate and not let boredom creep in are heartening. They email words of encouragement and messages of reassurance. Today will be a good day.