Media Centre introduces Press Reader
The Media Centre is pleased to announce the introduction of PressReader for staff and pupils.
What is PressReader?
​PressReader delivers the world's newspapers and magazines to millions of readers the way they want to receive them – in print, online, or on their mobile device, tablet or eReader – wherever they live, travel, work or play.
PressReader offers access to more than 6,000 newspapers and magazines from more than 100 countries in 60+ languages.
With PressReader, you can hold an enhanced digital replica of your favourite publication in your hands and read it from cover to cover, just the way the title was printed, with no compromises in quality, fidelity or content.
All you need to do is download the app and then launch it here on campus to get access to thousands of newspapers and magazines.
You must first authenticate through the library's PressReader HotSpot and then create a PressReader account with email address and password.  This account will allow you to create libraries for all your favourite titles.  You will still be able to access titles even if you do not create an account.
When you launch the app or visit PressReader via you PC or laptop, you should see the following HotSpot welcoming message: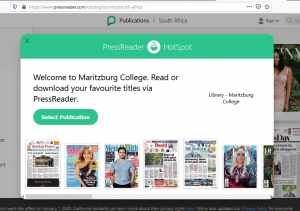 You will have access off campus for seven days.  To renew your seven days off campus access all you need to do is to log in again within the campus network.
Please review the quick start guide at https://care.pressreader.com/hc/en-us/articles/202547739-Quick-Start-Guide and tips 'n tricks at https://care.pressreader.com/hc/en-us/articles/214222563-Tips-n-Tricks.  Other help is available at https://care.pressreader.com/hc/en-us.
PressReader Key Features
All-you-can-read digital kiosk of newspapers and magazines
Easily discover content searching by publication name, interest, country, or language preference
Read fully-formatted publications and stories just as they appear in print
Read full stories in an attention-grabbing, horizontal news stream in text view mode
Download full-issues for offline reading
Find stories on your topic with advanced search across multiple publications
Instantly translate stories in up to 17 languages
Listen to stories with on-demand narration
Print full-content pages or articles