College's OC Staff #2
Meet Murray-John Smit (OC 2008)
At the MCOBA, we are all about keeping Maritzburg College old boys connected to both the school and one another. However, some old collegians want to have an even stronger connection with the school, choosing to report to College each weekday morning as they did when they still adorned the mighty basher. These men are our old collegian staff members. Over the next few months, we will be getting to know these individuals. We will be finding out what they do for our school, catching up with what they have been up to since their school days, and asking a few fun questions. If you have any questions you would like to direct to any of our OC staff members, email the name of the staff member and your question to: oldboys@collegeoldboys.co.za and it may just be featured in their interview.
PART TWO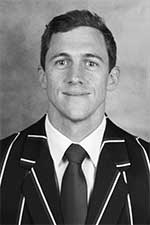 Murray-John Smit (2008)
Murray-John (M-J), finished school at College in 2008, and came back just two years later as a coach. By 2014, he was a full-time Geography and English teacher. This came as no surprise considering he enjoyed those subjects from when he was in school, citing his favourite subjects from school days as Geography, History and Biology/Life Sciences.
M-J's involvement in the school does not end with just teaching, however, he is also a Pape House Mentor. Moreover, it does not stop there, when the academic portion of the school day ends, M-J coaches both the second XV rugby and u16B cricket sides and is the Assistant House Master at Nathan House (2nd form boarding house).
When M-J is not busy directing the potential of his many students, he is spending as much time as possible with his wife Lisa and their two young children. Along with quality family time, M-J prioritizes exercising both his faith and body. Describing himself as an avid fisherman, he tells us of his passion for fitness, and running in particular; which isn't hard to believe considering he trained for and completed the Comrades Marathon in 2017.
We asked M-J these three fun questions:
Why did you choose to work at College?
I was excited to return as a coach since being a College sportsman was very meaningful to me. Thereafter I enquired about a teacher training position as I saw teaching as a solid start to my working life and I've enjoyed working with the young men of College ever since.
What was your favourite thing about being at College as a student vs now as a member of the staff?
There is something special about the nature of the people that inhabit this place. I sensed it and witnessed it as a student, and it brought me back. That special element is the esprit de corps and how it translates into a relentless pursuit of the highest standard and an unrelenting commitment to the school. A College boy has a dogged audacity that springs to life particularly when the odds are stacked against him. Being part of that was electrifying. An unwillingness to give-up, no matter what. Coupled with that, my favourite thing as a student was, without a doubt, the sport and camaraderie that it offered. Especially playing rugby (2nd XV) and cricket (3rd XI) for College. It is much the same now as a coach, but added to that is the very special College community. Colleagues have become very close friends and it is an ideal place to raise my family.
In light of the disappointing reunion day cancellation, what is your favourite reunion day memory? Do you remember the year?
My favourite reunion memory is one I experienced as a staff member. I think it was 2015. We were playing Glenwood. Our fullback got a red card early in the game for a tip-tackle. We were down to 14 men and out-numbered by a strong Glenwood side. However, true to the College spirit, the unrelenting, indefatigable, irrational willingness to fight on, irrespective of the situation, the 1st XV rallied. We were leading for most of the game until the very end when Glenwood scored a late try to win. We lost on the scoreboard, but certainly won the honour and respect of all who were present on that special day.