Meet our OC Staff #20
Meet our new Director of Soccer – Nic Haswell (OC1997)
At the MCOBA, we are all about keeping Maritzburg College old boys connected to both the school and one another. However, some old collegians want to have an even stronger connection with the school, choosing to report to College each weekday morning as they did when they still adorned the mighty basher. These men are our old collegian staff members. Over the next few months, we will be getting to know these individuals. We will be finding out what they do for our school, catching up with what they have been up to since their school days, and asking a few fun questions. If you have any questions you would like to direct to any of our OC staff members, email the name of the staff member and your question to: oldboys@collegeoldboys.com and it may just be featured in their interview.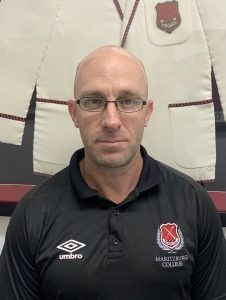 Nicholas Haswell (1997)
Nic matriculated from College in 1997 and has lived an eventful life since then. He taught at various schools in Johannesburg over about 7 years, citing his favourite amongst them as King David, a Jewish school in Linksfield. Nic's coaching record was so impressive that the Chief Rabbi made him an honorary Jew; an experience which he says is still one of the proudest moments of his sporting career. It's no surprise, his work as a sports coach and director was so high revered considering that Nic has been playing soccer since he was twelve years old and coaching even since his days as a pupil at Maritzburg College. He also became and remains the chairman of the UKZN Club and the UKZN Impi. From coaching soccer in Spain to the USA, Nic has a wealth of sport and coaching experience which he says has a lot to do with his family. Nic is the youngest of 4 brothers who are all old boys and who have all remained heavily involved in sport since leaving College. His brother Dan, coached College 1st team soccer at College for a number of years before becoming the Director of Soccer at Westville Boys' High.
Nic's family hasn't only left their legacy in the sporting world but politically as well. His father, who's reputation in sports precedes him, was also the first ANC Mayor of KZN. Nic even recalls having casual conversations with Former Presidents Jacob Zuma and Nelson Mandela; some of which were centred on the power that sport wields to affect change, foster tolerance, and bring about unity. Nic says that Maritzburg College is a prime example of this. Having coached soccer at College for the past three years, he has seen first-hand how the boys unite on the sports field as they all fight for the same badge. "Especially with Covid and all the disruptions to the curriculum, I believe more than ever that sports directors and coaches have a real responsibility when practice starts up again to sow positivity and really get the boys' mind-sets right again." Nic shared.
Nic is the Director of Soccer and teaches Physical Education but has also expressed interest in lending his expertise to the strength and conditioning team as well as playing a role in the Social Awareness Forum. When he's not working, Nic says he enjoys most forms of physical exercise and gym and still plays soccer socially. He also is musically inclined and plays the guitar.
We asked Nic three fun questions:
2021 is only just over a year in and is already plagued with so much uncertainty and instability. What is one thing that remains constant and consistent about College which you have come to appreciate in these tricky times?
If there's one thing I know about College is that we will be at the forefront of getting back to playing sport, as swiftly and as safely as possible. I know everything will be done carefully but because of the commitment to excellence and deep passion for sport, I know that we will prioritise getting the kids back onto the sports field. And they need it, the boys, a sense of competition, the excitement, and of course a healthy distraction.
Were you a boarder or a day scholar? Do you think there is a divide between the two groups? If so, why?
A day scholar. I rode my bicycle to school every day, never took a single lift. Even on cricket days I'd hang my bag on the handlebars. Sometimes it would rain so hard I couldn't see clearly, I'd have to push my bike all the way to school. As for the divide, I think the line between boarder and day scholar has become a lot more blurred. To be fair, the boarding establishment is a very important part of the school, a lot of College's culture and ethos comes from the B.E. I think it's to be expected that you'd be a lot closer to the guys you live with than those you see for a few hours in the school day, but at the end of the day, College boys stick together. You could have a teammate who you're at odds with but the moment the whistle blows on game day and it's you versus another school, all that is forgotten, and we fight for the same badge.
If you were given the opportunity to run Maritzburg College for a year, what is the biggest change you would make?
When I work on something, my main aim is just to leave it better than I found it. Right now, I am working with soccer and that's my main focus. I've loved and followed this sport as long as I can remember, and I am excited to grow the sport and take it to new levels. Sport is such a big part of College culture, it's important we give the boys as much as they give us. This is one of the only schools where the u16 F team will be pushing just as much as the 1st team. College boys have a drive and passion for sport that's unrivalled. Kevin Pietersen didn't even play first team at College, but because of the mentality he learned here, he decided he wanted to be the best and he worked to the bone until he was. That's powerful.