Meet our OC staff #21
Meet OC Brandon de Lange (2014)
At the MCOBA, we are all about keeping Maritzburg College old boys connected to both the school and one another. However, some old collegians want to have an even stronger connection with the school, choosing to report to College each weekday morning as they did when they still adorned the mighty basher. These men are our old collegian staff members. Over the next few months, we will be getting to know these individuals. We will be finding out what they do for our school, catching up with what they have been up to since their school days, and asking a few fun questions. If you have any questions you would like to direct to any of our OC staff members, email the name of the staff member and your question to: oldboys@collegeoldboys.com and it may just be featured in their interview.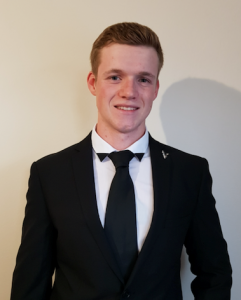 Brandon De Lange (2014)
Brandon De Lange matriculated from College in 2014, and took a gap year working at a local pool shop called Pool Magic, which is owned by a fellow Old Collegian. After deciding on the route he wanted his life to take, Brandon enrolled for a degree in English and psychology at Varsity College. Enjoying the psychology part of his studies made Brandon realise that he wanted to go into the field. To that end, he is currently doing his honours in psychology at VC. Before enrolling for his honours, however, Brandon completed his PGCE through UNISA so he could teach while he completes his studies. And teach he did, Brandon worked at St Charles for two years as an intern teacher; but that's not the only interim job he has had. Brandon also worked as a barman, a coach at MCS, and a tutor.
Early this year, Brandon returned to College as an English teacher, which he says, was one of his favourite subjects while he was a pupil at the school. However, true to form, he's not involved in just one aspect of life at College. Brandon is also a boarder master at Shepstone House and therefore lives on campus, he's a mentor teacher for Fuller House, and is a cycling coach. When he's not working, Brandon says he's a keen outdoorsman. Amongst his favourite outdoor activities is hiking, fishing and of course, cycling. While he admittedly doesn't get too much time to do some of his favourite activities, Brandon says spending time with friends and family surrounded by nature is always a welcome escape.
We asked Brandon three fun questions:
 Towards the end of 2020 it seemed that, for whatever reason, people believed that the Corona Virus would be limited to that one year and 2021 would be a pandemic free year. While that hasn't been the case at all, it is true that nothing bad lasts forever. What is one thing that you look forward to once the worst of Covid is behind us?
I'm definitely looking forward to finally being able to ditch this mask, I'm sure we can all agree on that one! But on a serious note, I'm really looking forward to visiting my brother in the UK; he moved that side a few years ago and I haven't seen him since. At the end of 2019, my plan was to visit him in 2020 but naturally, Covid had other plans and so I had to put mine on hold. I don't think I'll be able to get there any time soon but I know that when I do it will be well worth the wait.
Rumour has it you're a keen mountain biker. Did your time at College have anything to do with your love for the sport? Do you aim to be involved with it at College and if so, what would you aim to bring to cycling at Maritzburg College?
The rumours are true; I am definitely a keen mountain biker. I also enjoy a bit of road riding. I don't get to do as much as I would like of either but I take every chance I can get. College definitely played a massive role in my love for the sport. I actually started cycling when I was 15 and was introduced to it by a friend of mine who went to another school. But it was through that that I ended up meeting some mates at College who enjoyed and excelled in various sports; swimming and cycling in particular. That definitely increased my love for sport. The fact that many of those friends represented KZN and some even South Africa also served as motivation for me and inspired me to stay consistent and push myself in the sports, which I enjoy.
I definitely want to be involved with cycling at College. I am currently coaching but I'm excited to do even more within the context of Maritzburg College cycling. I want to encourage and organise more competitions in the sport, increase our numbers and grow cycling as a whole at the school. It's such a great sport, I'm happy to do it competitively or for leisure, as long as I'm on the bike. It goes hand in hand perfectly with my love for the outdoors, cycles out in the midlands or up in Cascades means I get to exercise and be surrounded by beautiful scenes in nature too. It's also a very social sport and I really enjoy that aspect of it. It'll be exciting to get back to competing once the worst of Covid is behind us but just to go back to my role in College Cycling, my main aim is really just to add value. I want to be a part of the betterment of the sport for boys and for the school.
 If you could go back to your time at College and change one thing, what would it be and why?
I would definitely go back and get more involved in different aspects of College life. Especially different sports. I wasn't really too willing to explore many sport options when I was at College and I wish I had. I think College has so much to offer to students but it's easy to find your niche and get caught up in that. Sometimes we don't realise how much other sports or activities can do for us because we're focused on just one. I love cycling but I wish I had cast the net a bit wider while I was still in school.