Meet our OC staff #21
At the MCOBA, we are all about keeping Maritzburg College old boys connected to both the school and one another. However, some old collegians want to have an even stronger connection with the school, choosing to report to College each weekday morning as they did when they still adorned the mighty basher. These men are our old collegian staff members. We  are getting to know these individuals, finding out what they do for our school, catching up with what they have been up to since their school days, and asking a few fun questions. If you have any questions you would like to direct to any of our OC staff members, email the name of the staff member and your question to: oldboys@collegeoldboys.com and it may just be featured in their interview.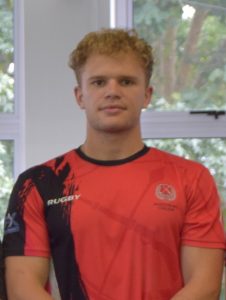 Austin Landman (2016)
After Austin finished school in 2016, he worked at Merchiston, coaching cricket and rugby for a year before returning to College where he had two very successful coaching seasons. One with his open cricket side and the other with his u16C rugby teams which was bested only by Affies on one occasion that season. It was during that time that Austin obtained his National Certificate of Fitness. In 2019 Austin was offered a more permanent position in the High Performance Centre as a conditioning coach. His main focus was to work with the high performance squads across all the sporting codes.
When the Covid-19 pandemic sent the country into a hard lockdown at the end of March last year and both gyms and schools were non-operational, Austin, like the other 90% of South Africans, had to find something constructive with which to occupy his time. He did. After studying a basic Close Protection Course at a company which focused on celebrity and asset protection, Austin qualified as a Close Protection Officer. During that time he did everything from special weapons training to advanced driving skills, often having to do security for celebrities and truck carrying materials worth millions. It was only a matter of time, however, before Austin's passion for strength and conditioning training brought him back to College.
Austin is currently back in the College gym full-time. He is dealing mainly with rugby; a fitting assignment for a man who played first team College rugby himself not too long ago. It is for that reason, in fact, that he was headhunted for the role. Being able to understand the mind-set of a College first team rugby player, the challenges and the opportunities, make Austin the best man for the job. Unbeknownst to him, he's also been preparing for this role since he was in high school. Austin's favourite subjects were Biology and Technical Drawing. Both of these subjects, he credits for working together to help him understand the human body and how to get the best out of it, as well as how to think analytically and systematically. While Austin is not currently involved in anything else at the school, he says he can't wait to get back to coaching, "The coaching I think goes without saying. I doubt there's a College boy alive, past and present who doesn't miss College sport. Watching it, playing it, coaching it, it's left a real gap behind." He also told us he missed being a part of the boarding establishment "When I started out in the B.E, I was at Elliot House. That was fun but it was difficult to strike a balance between being in charge and being friends with the guys. I had been in school at the same time as most of them. Respect was never an issue because when I was in 6th form they were in form two or three but it was complicated for me walking that line. I was also a boarder master at Shepstone House, however, and I loved that. I really miss it and hope I get the opportunity to re-join the B.E. soon."
We asked Austin a few fun questions:
Rumour has it you've recently started a company. What is that all about and how do you feel College played a role in or helped you prepare for that? If at all.
It definitely did. Massively so. My company is called Phoenix Fitness. It's a personal training company which caters to people at all levels of fitness from elite athletes to beginners. College has played a huge part in preparing me for this. It is thanks to the school that I have had the opportunity to work under people like KG Shezi and Jason Greef. The amount of knowledge and experience they have and were willing to share with me is immeasurable and I will always be grateful for them both. Working at College also meant interacting with the boys. I found it quite hard in high school to speak in front of large groups of people, but being on the staff and dealing with such a huge number of boys, I was forced to just take control and speak confidently, and that has done wonders for my people skills and make interacting with my clients that much easier.
College sport is often discussed as though it is a separate entity from sport in general. The heart and passion that College boys display on the sports field is unrivalled. High performance is a big part of that. What do you think the Maritzburg College High Performance Team does right?
Definitely, the new partnership we have with Enhanced Physio and Activate Endurance. The knowledge we all bring to the table is of such a high standard. All of us have spent time in the gym ourselves; we've all spent time behind the books studying. All our personalities just gel as well, we're all willing to help each other and learn from each other, which is a big thing in high performance. The field is always changing and evolving and no one person is ever going to know everything or have all the information; we have to rely on each other because we're stronger as a unit. That's the narrative for all of College, not just the high performance guys, but that's easily what sets us apart an gives us the edge. Our facility is also definitely a not-so-secret weapon. We have one of the best high performance facility at a high school level. It caters to hundreds of boys and multiple sessions catering to various sports can happen simultaneously, we also have the manpower and expertise to facilitate sessions like that, and that takes us back to the value of our team.
Your younger brother, Ethan, is currently at College. What is the biggest lesson you wish you could impart on him, or advice you wish you had got when you were in his shoes?
There's so many things. I think, first and foremost remember why you're there. College is such a big experience it's easy to lose sight of the main goal. You're at school to get your education. I'd tell him to keep his head down and do his school work. In line with that is also to have respect, respect the older guys who've been through the system and know what it's about. 6th formers aren't there to intimidate and frighten the youngsters. It's about knowing your place in the world, about having respect for people in different positions. There's a lot of life lessons hidden in College's hierarchy system. It teaches you to respect people who have gone through what you're just starting out in. you can't learn from someone if you're too busy fighting them, College gives you an opportunity to really absorb lessons from people who just want you to know now what they wish they knew then. And that goes both ways. When he's in 6th form. He needs to have respect for the younger guys, he needs to know what the purpose of that role is. They're there to offer guidance and support, and not to impose their will, which is a common misconception. Another thing I wish I had done when I was at College was to take advantage of the cultural activities on offer at the school. The boys really overlook the value in those. There are so many skills that can be learned through cultural activities, things like speakers circle and debating. You're aiming to become a professional rugby player? You're going to need to speak to the media, interviews, press conferences and things of that nature. College offers a broad and holistic experience, I would advise him not to look at it with blinders on.