Meet our OC Staff #23
Kevin Smith (OC1985) – Director of College Business
At the MCOBA, we are all about keeping Maritzburg College old boys connected to both the school and one another. However, some old collegians want to have an even stronger connection with the school, choosing to report to College each weekday morning as they did when they still adorned the mighty basher. These men are our old collegian staff members.
Over recent months, we have been getting to know these individuals, finding out what they do for our school, catching up with what they have been up to since their school days, and asking a few fun questions.
If you have any questions you would like to direct to any of our OC staff members, email the name of the staff member and your question to: oldboys@collegeoldboys.com and it may just be featured in their interview.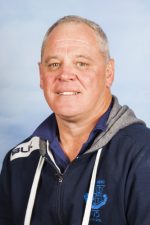 Kevin Smith (1985)
After matriculating from College in 1985, Kevin spent two years doing National service in Pretoria and Durban. He then studied at Cedara Agricultural College before doing a Financial Management Diploma for 3 years at Natal Technikon. Once he was done with his studies, Kevin joined a property company known as Colliers International in 1992 in Durban and was made a Director just 6 years later in 1998. In 2002, Kevin was part of starting a private property company known as Hexagon Property Solutions which focused on Government Institutions and high end organisations. Throughout that entire time, he was also playing rugby professionally for the College Rovers. Upon retiring as a player, Kevin began to coach part-time, getting his start as the head coach of the College Rovers u20 division. And not just a head coach but a record breaking one as that team still holds the record for 175 consecutive games unbeaten.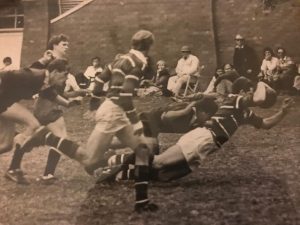 In 2013, Kevin was asked to do some consulting for Maritzburg College and assist in coaching the 1st team rugby side. Only two years later, in 2015, the school asked Kevin to come on board permanently as Director of Rugby. "Maritzburg College and rugby are two of my passions, so it made a tough decision far easier and I left Durban to pursue the dream." Once at College, Kevin also started teaching, taking a few Life Orientation classes to be able to better understand the demands and pressures some of his coaches faced as well as to interact with the students in a different setting.
In 2020, Kevin made the move from Director of Rugby to Director of College Business but says he will gladly assist with rugby wherever he's needed. Kevin's continued involvement with rugby is to be expected considering that he admittedly dedicates a lot of his spare time to sports even outside of work, "I am an avid follower of most sports, especially Rugby, Cricket and Liverpool football." When he's not dedicating his time to sport, Kevin says he enjoys socialising with family and friends over a braai; although we'll offer no prizes for guessing the topic of conversation around the fire.
We asked Kevin four fun questions:
While you've recently made the move away from rugby and are now at the helm of College business, I think it's safe to assume you're still just as passionate about the game. What do you think College rugby has that no other school has?
The honest passion of our rugby is unique to Maritzburg College. I say honest due to our commitment to what we have rather than going the route of 'buying in teams'. The odd boy will join or leave the school but there has never been a mass strengthening of teams for the sake of results. Whilst many Old Boys demand results it is imperative that we maintain our ethics and continue to be the school that everybody looks up to. The hard work has paid off and we will see some top teams and players this year who have come through our system and are true College boys.
Your wife Natalie can often be heard rightfully bragging about your sons; who, not unlike you, achieved many great things during their time at College. Has the fact that you all went to the same high school had a significant impact on how close you are to your boys?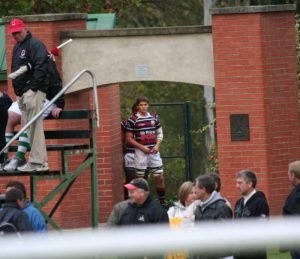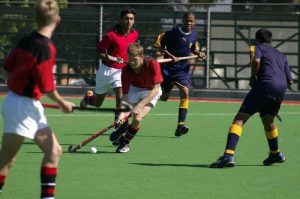 Without a doubt. Being part of the school as a student and as a father was a privilege. My sons achieved in different fields whilst at Maritzburg College, which made me even prouder in that they forged their own way at the school and were their 'own 'people.
What do you know now that you wish you had known in your days as a College boy?
We attended College in a totally different time. To try and compare the eras is very difficult. I do regret not paying too much attention in accountancy and perhaps being far to focused on Rugby, Cricket and athletics. There is balance needed in life.
Circling back to your shift from rugby to College Business, has it been an easy transaction?
It has taken 5 years of hard work to get the rugby division to a place where we can now build off a strong base. I am confident that we have established a firm foundation and I cannot wait to see what is built off that in the next few years. In 2020, the opportunity to be part of College Business came up and it made sense for all concerned that I pursued this opportunity for the betterment of the school. I am now Director of College Business. It has been a lot to get used to but I feel confident I have left the rugby department in capable hands and I have had the help of a dedicated team at College Business to make the transition smoother.