Meet the Exec #4: Our Immediate Past President
MCOBA's Immediate Past President, Bruce Lesur (OC 1989)
For the 4th of our Meet the Exec series, we introduce to you, our immediate past president, Bruce Lesur.
As the name implies, this is a position for which one cannot be nominated or voted for. This portfolio sees the past president stay on as a member of the Exec to provide continuity as well as guidance and support to their successor. After serving at the helm, Bruce remains a dedicated and present part of the MCOBA Exec.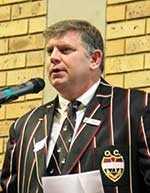 Bruce Lesur OC 1989
Bruce matriculated from College in 1989 and is currently a farmer in the Umshwathi area where he lives with his wife Michelle. They have two children; a daughter Shaunagh, and a son Gary, who matriculated from College in 2018 as a 5th generation College Boy.
Although he admits he wasn't too fond of the academic side of school, Bruce says he loved being on the sports field getting to know boys from other schools. Another aspect of College life Bruce particularly enjoyed, was life in the boarding establishment.
"The comradery and spirit amongst College boys, has enabled me to make lifelong connections and friends. It's incredible how that sense of community is kept alive and strong by the MCOBA."
Bruce looks forward to his continued involvement with the MCOBA Exec and vows to ensure that a spirit of comradery is achieved and maintained. He also aims to keep as many old boys as possible engaged with the MCOBA office and having fun staying connected.