Meeting OC Staff #11
Meet Swelihle "MK" Mkhwanazi (OC2010)
At the MCOBA, we are all about keeping Maritzburg College old boys connected to both the school and one another. However, some old collegians want to have an even stronger connection with the school, choosing to report to College each weekday morning as they did when they still adorned the mighty basher. These men are our old collegian staff members. Over the next few months, we will be getting to know these individuals. We will be finding out what they do for our school, catching up with what they have been up to since their school days, and asking a few fun questions. If you have any questions you would like to direct to any of our OC staff members, email the name of the staff member and your question to: oldboys@collegeoldboys.co.za and it may just be featured in their interview.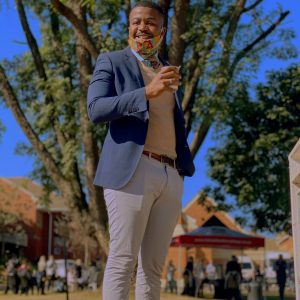 Swelihle "MK" Mkhwanazi (2010)
Swelihle matriculated from College in 2010 and went straight to university at UKZN where he obtained a Bachelor of Social Science in media and digital art with psychology and Isizulu as electives. He says he's always been interested in the Zulu culture even before he studied the language formally. After graduating, he joined Red Bull as an intern, but when he battled to find permanent employment, he went back to school, electing this time, to study a PGCE. MK returned to College in 2019 and has been back for almost two years now.
Swelihle is an IsiZulu teacher who teaches classes between 2nd and 5th form for now but will begin teaching 6th formers from next year. He also coaches across multiple sporting codes; rugby, soccer and basketball where he coached two teams to unbeaten seasons. Being that MK is a Zulu teacher with a passion for the Zulu culture, it is no surprise that IsiZulu was his favourite subject when he was in school. He sites Mr Mhlongo as the reason he enjoyed the subject so much and describes having him as a mentor and head of subject now, as an honour. MK says the best part of teaching IsiZulu is the diversity of cultures in the classroom and not only teaching about the Zulu language and culture but learning about other cultures in the process. Swelihle says his love for the classroom is rivalled only by his passion for sport. He told us that while basketball has always been his favourite sport, he also enjoys rugby, adding that he was actually scouted because he played provincial rugby at 13 years old and so it was rugby which led to him joining College.
When he isn't working, MK says he enjoys doing anything music related. From making beats to singing, that's what he can be found doing most weekends. Fashion is also a big passion of MK's and he enjoys not only looking good himself but styling others too. This extends to hair styling as well and he is actually well known for providing clean cuts in the boarding establishment.
We asked MK three fun questions:
As a new father what do you think will be the best part of raising your son on the College campus.
I really believe that as parents, it's very important for us to nurture our kids and ensure they have the right direction, this has a lot to do with the environment they grow up in. Children develop habits and behaviours at a very young age that may become permanent and so having my boy at College and around campus is very important because he will be surrounded by many young men from which he can draw inspiration and motivation. College boys always want better for themselves and strive to do and be better and they do not shy away from having to work for it, that's an example I'd be happy for my son to follow.
In Isizulu we say indlela ibuzwa kwabaphambili, this means that we must learn from those who have walked that path before us. And being around College boys and learning from them will develop his character in a positive way. I'm very glad he'll have that opportunity.
Being so involved in College basketball, what do you think made College basketball so great in the past and what would you do to get the first team back to its "1st in South Africa" ranking?
In the past, there was a certain culture and respect that came from the fact that we were all from different schools and we realised everyone had a role to play and something different to add to the team. Nowadays, the boys tend to compete against each other based on the schools they came from, forgetting that they now need to come together to fight for the same team, the College team. It is our responsibility as coaches to help them do that. I think as coaches as well, we tend to want to coach kids into playing how we want them to as opposed to nurturing the talent that they already have. Technique is important but it shouldn't stifle a player's ability to have fun with the game.
There are also a lot of traditions that have fallen by the wayside. The first team used to sit together before their game, secluded from the other boys and support the second team until they had to go warm up, I think this really helped to build team chemistry and made the team gel better. It's also up to coaches to nurture that team spirit within their boys.
What I would do to get us back to being the best in the country is fairly simple. The boys just need to be psyched for basketball again. If you have ever watched the u14A team I coached this year, you would have seen the chemistry those kids had, and that's how they won all their games. They were playing for each other and the team, not for me. It's about getting them to enjoy each other, to be rooting for their teammates and not playing against each other to try and excel individually. That is the culture of Basketball at College and that it what the current teams are missing.
As both a coach and a teacher, it's clear you enjoy leading the youth towards self-improvement. Did you have a teacher/coach who stood out in your schooling years to make you so passionate about teaching young people both inside and outside the classroom?
One of the quotes I live by is "the number of people you bless is how your success is measured." All the kids we deal with as coaches and teachers come from different backgrounds and walks of life. It's very important to know that and nurture children into being the best versions of themselves.
Mr Mhlongo was definitely one of those teachers for me, in between his lessons, he would give us advice and teach us life lessons, a lot of which I keep in mind to this day. Another teacher who had a big impact in my life was Mrs Orchard. She is a naturally gentle and nurturing person, she treated us like her children, always made sure we were ok and being treated fairly. There's a reason that even to this day, we call her "Ma-Orchie" the way she treated us has a lot to do with my character today and why I am able to be so patient and caring with the boys I teach and coach.
On the basketball court, coach Suwi had a big impact. He's a close friend of mine to this day, but back then he treated us with respect, he never spoke down to us. Probably because he wasn't much older than us, but we always felt comfortable with him as a result, and so we felt comfortable with each other. That had a lot to do with the success of that team. Mrs Montgomery was also an important person in terms of directing us as a basketball, she really believed in us and so we couldn't not be successful. Clearly many College staff members past and present have played a hand in shaping the person I am today, I would be honoured if I could play a similar role in the lives of the kids I teach and coach.