Meeting OC Staff #12
At the MCOBA, we are all about keeping Maritzburg College old boys connected to both the school and one another. However, some old collegians want to have an even stronger connection with the school, choosing to report to College each weekday morning as they did when they still adorned the mighty basher. These men are our old collegian staff members. Over the next few months, we will be getting to know these individuals. We will be finding out what they do for our school, catching up with what they have been up to since their school days, and asking a few fun questions. If you have any questions you would like to direct to any of our OC staff members, email the name of the staff member and your question to: oldboys@collegeoldboys.co.za and it may just be featured in their interview.
Meet Shaun Sinclair (2012)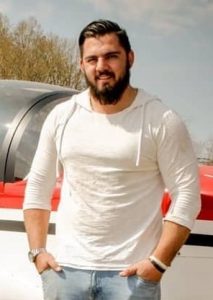 Shaun matriculated from College in 2012 and went straight to Varity College for a year while coaching sports at St Charles Prep. After leaving St Charles, Shaun became an intern at Hilton College where he worked and coached for over four years. Shortly thereafter, Shaun was given the opportunity to play club cricket in England where he was also involved with the County Academy. In October 2018 Shaun started coaching at College part time, and by May the following year was offered a full-time position, bringing his total time back at College to two years this month.
Shaun's official job title is Sports Officer and MIC of cricket but he is also very involved in the Boarding Establishment as the Assistant Housemaster of the mighty Clark House, an in the winter sports season, he coaches the 3rd VX rugby side. Shaun also teaches Life Orientation, which he says he has been interested in since he was at school himself, "I always felt that it was preparing me for adolescence and the independence you need after leaving school." His favourite subject, however, he sites as having been Geography.
When he isn't working hard contributing to the impeccable sporting standards at College, Shaun can often he found with his wife and their two young children. He told us, that as a family which loves being outdoors, some of their favourite activities include going up to the Karkloof Falls and spending time on the Midlands Meander. When he isn't with his family, Shaun says he enjoys playing golf with his friends but can otherwise be found throwing heavy weights around the gym in the early hours of the morning.
We asked Shaun three fun questions:
Your son Michael, starts school at Merchiston next year. As both a Merchiston and College old boy, do you think your college experience would've been any different if you had been at a different primary school?
I do think it would have been a different experience if I had gone to a different school, I had a lot of friends that came to college with me from Merchiston so I never felt alone in my first years at college. Merchiston also gave me a very good foundation on what to expect at a traditional, big, boys highs school. I was taught manners and how to uphold good values by Merchiston and I am extremely proud to be sending my son to Merchiston, and will be equally proud the day he is finally clothed in red, black, and white.
It's no secret that you quite enjoy exercise, and can often be found in the gym, what is your favourite sport and what would you like to see happen within that sport code at College?
I would have to say that cricket is my favourite sport. Within the sports code I would like to see cricket being more popular among the older boys, we tend to see a drop off in the open age group with boys joining the other summer codes. To see the love and passion boys have for the sports stay alive and strong is the goal. A lot of that responsibility falls on us as coaches, and the school to make it clear that cricket as a sport is valued, especially considering that College generally produces very strong sides.
Many people have taken a knock during this pandemic, but you haven't let that derail you, taking on a new role in the frontlines of College's fight against Covid-19. Despite how well you've adjusted, what has been the most difficult part of 2020 for you?
I would have to say that the most difficult part of 2020 has been the uncertainty of what our future holds and how long it is before a vaccine is found and we return to normal life. I will say that being on the College campus has made this strange time a lot more bearable, there are so many precautions in place that at least that's one less thing to worry about. It was also nice, as much as we kept our distance, not to be completely isolated from the world during hard lockdown. But with everything going steadily downhill in the country and even the world it has definitely been most difficult not to have any idea what happens next. Job security, mixed messages about how serious the virus is, trying to reshape your life around regulations that are constantly changing, all that was incredibly difficult to overcome. Luckily, at College, overcoming challenges that seem impossible is what we do on a daily basis!