Meeting OC Staff #15
Meet Chris Barnsley (OC2009)
At the MCOBA, we are all about keeping Maritzburg College old boys connected to both the school and one another. However, some old collegians want to have an even stronger connection with the school, choosing to report to College each weekday morning as they did when they still adorned the mighty basher. These men are our old collegian staff members. Over the next few months, we will be getting to know these individuals. We will be finding out what they do for our school, catching up with what they have been up to since their school days, and asking a few fun questions. If you have any questions you would like to direct to any of our OC staff members, email the name of the staff member and your question to: oldboys@collegeoldboys.co.za and it may just be featured in their interview.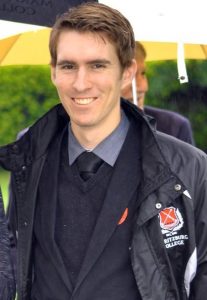 Christopher Barnsley (2009)
Chris matriculated from College in 2009 and took a gap year to try and decide on a career path. Throughout high school Chris had wanted to study veterinary science, which he was accepted to study at the University of Pretoria. During 6th form however, he inexplicably changed his mind, prompting his parents to understandably want to hold out on letting him commit to a university course. That gap year was hardly spent solely on introspection though; Chris was also working hard at his local church helping wherever necessary, including running youth programs and things of the like. He also used the time to take a counselling course at Unisa.
When his gap year came to an end, Chris had decided to study English and become an English teacher. Which is exactly what he did. After obtaining his degree from the University of Pretoria, Chris returned to College in 2014 as an English teacher. Having enjoyed English in his high school days, Chris says his chosen career path was influenced greatly by some of the teachers he had. He also mentioned Biology (now Life Sciences) and Maths as close contenders for favourite subject.  Chris used to be a hockey and cricket coach but for the last three or four years, has been involved with Techsquad, Esport and for about two and a half of those years he has been running College for Christ.
When Chris isn't working hard for the betterment of the school and its students, he says he has a number of hobbies he enjoys but his favourite way to spend his spare time is with his wife (who works at GHS, also as an English teacher) and their two-year-old son. Chris has a Bachelor of Theology, in which he completed his Honours this year and is all set to move on to his Master's degree next year. As you'd imagine, he's very involved in his church which he says takes up a lot of his time but it's time he's happy to give. Chris' also cites baking as one of his favourite hobbies, and likes making bread in particular.  Being an English teacher, it's no surprise that another one of Chris' hobbies is reading. He also enjoys being outdoors and hiking in particular. When he can't be outside he has found a way to always have a piece of nature with him by growing his own Bonsai trees. Contrasting Chris' love for nature is his love for technology. He told us he enjoys playing around with building computers and playing video games although he doesn't get as much time for either as he'd like.
We asked Chris three fun questions:
If you could have facility in the school named after you, which would it be and why?
I'm going to answer this question indirectly and on two levels if that's ok. Because to begin with, I'm not entirely sure I've done anything noteworthy enough to be deserving of that honour. However, years down the line if the school feels I am worthy of such a privilege, I don't think that is something someone should decide for themselves. I think what makes it most special is the very fact that it was someone else's idea and decision.
If you hadn't ended up at College, which school would've been your second best school and which would've been the last option? Any particular reason?
We actually only applied at College. My dad and a number of my uncles are old boys so it was a no brainer. I do remember at breakfast the one morning asking my dad if he'd heard from the school because there was only about a week left and he responded "No, and if they don't take you we're in big trouble because we didn't apply anywhere else."
I can't say which school I may or may not have ended up at but I can say that I would not be the man I am today, were it not for Maritzburg College. My students never believe me when I tell them that my fondest memory of College was team testing every Friday. We could hear the prefects all the way down the hall, banging on lockers, yelling. When they walked into the prep venue, we would be terrified. They would bang on the desks and tell us what we had to do. All that fear and anxiety, I think was a number of very important life lessons disguised as some very large, scary looking matrics. My ability to work well under pressure, study for exams, memorizing pages and pages of information and endure through tough times, be able to withstand challenging circumstances. I got all of that from Team Testing; from College. Also, going from quite a small primary school and being the only boy from my primary school to such a huge environment, I had to grow up very quickly and learn to socialize. I have very fond memories of College and I will be very sad to leave at the end of the year. But it is time for me to apply the lessons of taking risks and learning to branch out and challenge oneself and apply them outside of the College environment. It will be difficult leaving my students, but I know they are in great hands.
This year has been a difficult year for many people, but every grey cloud has a silver lining. What's the best thing that has happened to you this year?
Well if you're talking about something specific to the pandemic, I think hard lockdown, just for the short period it was enforced had a lot of benefits. It gave me the opportunity to reflect and be alone with my thoughts. It meant some time to relax with my wife and son and just take our foot off the gas. On a selfish note, I definitely had more time to work on obtaining my honours. But more than anything I think it was a time to learn. A moment to step back and take stock. I've always wondered how great leaders in history got masses of people to follow them and I think this year made clear just how willing people are to comply to whatever is being said by the people in power once they're afraid. Once they have something to worry about that the group in power is promising to protect them from. I'm a big fan of George Orwell books and so I've found that very fascinating. Lastly this year has given us a great gift. Hope. This year has given us a reason to look forward to a better year next year, the hope that there is a better tomorrow on the otherside of today. I think that's beautiful. Afterall, don't you appreciate the sun a lot more after a rainy day?