Meeting OC Staff #16
Meet Graeme Waters (OC1975)
Meet Our OC Staff Members         
At the MCOBA, we are all about keeping Maritzburg College old boys connected to both the school and one another. However, some old collegians want to have an even stronger connection with the school, choosing to report to College each weekday morning as they did when they still adorned the mighty basher. These men are our old collegian staff members. Over the next few months, we will be getting to know these individuals. We will be finding out what they do for our school, catching up with what they have been up to since their school days, and asking a few fun questions. If you have any questions you would like to direct to any of our OC staff members, email the name of the staff member and your question to: oldboys@collegeoldboys.co.za and it may just be featured in their interview.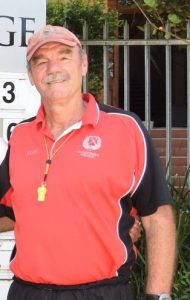 Graeme Waters (1975)
Graeme Waters matriculated at College and had a busy life before returning to College in 2012 to teach. Just some of what he did in between being a student at College and returning as a staff member was, serve as an instructor in the army, work in a bank, study Physical Education and History at Stellenbosch University and was head of sport at more than one prominent KZN school and at Wits University. In 2012, however, Graeme's journey came full circle and he found himself back at College as an employee. Graeme teaches history, life orientation and physical education, which he says, have always been his favourite subjects. "I particularly enjoyed physical education. I've always loved being active and enjoyed sport," Graeme told us. It's easy to believe him considering he played first team in both rugby and water polo. Graeme even went on to play Natal Men's in water polo, which he still coaches today and says, is the highlight of many of his weekends. Another highlight of his College life, Graeme says, is the work he does in Nathan House as a boarder master to all new 2nd formers as they join College.
When Waters isn't in the classroom, Nathan House, or poolside, he is enjoying his wife's company doing the various hobbies they share, "I absolutely love my wife's company. She's my entire life and I could just hang out with her forever. We do everything together and I would have it no other way." Some of Graeme's hobbies include visiting the beach and reading, in fact, he says he sometimes tackles multiple books at once. In addition, as an avid traveller, Graeme has taught in many countries including Dubai and a small island off the West African coast. He and his wife have also done a lot of travelling around Europe, which is now the home of his only son and his young granddaughter who Graeme adores and keeps in close contact with. Another thing that Graeme dedicates the bulk of his time to is his relationship with the Lord. Graeme and his wife are both very involved in their church up at World's View and make every effort to walk the talk and live an exemplary life.
We asked Graeme three fun questions:
This has been a horrible year for many people, events and trips cancelled, jobs lost; but nothing is ever all bad. What has been one really good thing about 2020 that will make you look back on the year with a smile?
you know, I have been married to my wife for 37 years, and during lockdown, I learnt so much about her that I didn't know. We discussed things we've never spoken about before. That's one aspect of this year I am grateful for, it has allowed us to reconnect with each other as people. Nowadays everyone has his or her nose against a screen, everyone is rushing around, this year we were forced to slow down. It's ironic because we were keeping our distance from one another but that brought us closer. People started talking again, we all had a common interest in the topic of Covid and so you had something in common with everyone. This year has allowed us to control time, where time has previously controlled us.
Everyone at College knows your granddaughter, who you often share adorable stories about. If College were open to female students, would you send her here?
I love College, I am grateful for my time here as both a student and a member of staff. But first and foremost that would not be my decision to make, my son and his wife would have to choose what's best for her based on whether or not her personality matched the school and what she wanted for herself. My son made the independent decision to join College because he wanted to follow in my footsteps, I think being a good parent comes before everything else.
You have been around College through many of its transitions and transformations; what is one thing about the school you hope never to see change?
Traditions must be kept alive… so long as they don't hinder progress. College has a proud history and has produced many great men who still love the school to this day; that is something to be proud of. However, the world is changing, the kids of today are different, and it's important that we don't, in our efforts to keep our traditions alive, alienate the 2020 College student. This badge means a lot, but only because of the young men who wear it. We have to, as educators and as old boys ensure that we continue to make the school better for the boys who are in it today; and our proud traditions have a lot to do with that, but we just need to be mindful.
I also hope never to see the day where College stops striving to be a place where young men can find belonging. College boys, both weird and wonderful come together and become a family between these great walls. The brotherhood at College is unmatched honestly, the connections made here last a lifetime and students leave this place knowing they have a home and support system forever. That is what makes College what it is.