Meeting OC Staff #17
Meet Gregory Haripersad (OC2018)
At the MCOBA, we are all about keeping Maritzburg College old boys connected to both the school and one another. However, some old collegians want to have an even stronger connection with the school, choosing to report to College each weekday morning as they did when they still adorned the mighty basher. These men are our old collegian staff members. Over the next few months, we will be getting to know these individuals. We will be finding out what they do for our school, catching up with what they have been up to since their school days, and asking a few fun questions. If you have any questions you would like to direct to any of our OC staff members, email the name of the staff member and your question to: oldboys@collegeoldboys.co.za and it may just be featured in their interview.
Gregory Haripersad (2018)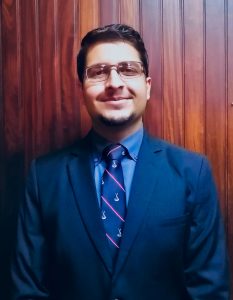 Gregory matriculated from Maritzburg College in 2018 and was, in his own words, back at College as soon as he left. Greg started working as a helper for NSC Matric Marking under Biddy Parker in 2018, following which he returned in 2019 working for DiGi TV, the videography crew on campus. Then, in around October of the same year, he was back again as the temporary Events Co-ordinator covering for Caitlin Brent who was on maternity leave. Now, he's back yet again; this time as the Insurance Admin Clerk. "Everyone laughs about how I have been back more times than most staff members and I wholeheartedly agree."
Officially, Greg started working a full-time job at College this year, with his position in the finance department. But indirectly he has worked for College not only since matriculating but he says during his schooling time too. "I would like to think that I began working at College as a student as I always been able to get along well with our staff. It is such relationships, which have taught me invaluable life lessons and has enabled me flourish at College." Greg's official job title is "Insurance Admin Clerk" and that means he's responsible for ensuring that student medical bills are accurately and efficiently processed. He also handles other payments as and when required and jokingly adds that he often does an errand run or two just for fun!
Although Greg has played numerous roles at College, he doesn't seem to show any signs of slowing. He told us he would love to help again with the various societies he was a part of while at school. While he singled out the Media Centre, TechSquad Monitors, MC Ink, Khanyisa and the Hindu Society he told us that his priority is the boys and so as long as he's growing the boys in some way, he'll be happy.
Outside of College Greg says he can usually be found improving himself in some way because he dislikes "sitting idle." Greg says he's a firm believer in having a growth mind-set; a concept he says was introduced to him by Mr Luman during an assembly. He also stands by the idea of life-long learning which he says he learned about from Sven Jager and Rob Gutteridge. It is owing to these great life lessons that Greg chooses to spend his time mentoring others or helping at his family's workshop, Audio Active, whenever he has a chance. He says his involvement at the workshop usually keeps his hunger satisfied because he can be working on a car one minute and maintaining their website the next.
We asked Greg four fun questions:
What were your favourite subjects in school? Why?
When I was choosing subjects in Form 4, I had no earthly idea what I wanted to do with my life. One week, I wanted to be an accountant, the next, a doctor! Being so undecided I opted to take an eighth subject just to keep my options open.
The subjects which really spoke to me were Biology, Physics and Economics. Biology takes first place and I am immensely grateful to Mrs Marchant and Mrs Finnie for the solid grounding I have in the subject. Physics was always a demanding subject yet something I enjoyed and I again attribute this to the good grounding of my teachers Mrs Rembold and Mrs Kritzinger. Finally, Economics because I could relate what I was learning to the world around me. It was also much tougher because it was my eighth subject but Mr Marwick and Mr Pillay really knew how to explain things well!
When I mentor our boys today, I always encourage them to start off by picturing themselves at 20, 40 and 60 years old and to ask themselves, "Will I be happy with my life?" It is a simple exercise, but it really helps give them a sense of direction when it comes to their whole lives and not just their careers.
Since matriculating from College, you've returned to do several jobs at College and are now full-time in the finance office. What keeps you coming back to College?
As the Stoics say, "Fortune". I have been incredibly fortunate to have been given the life that I have. Every day presents new opportunities, not challenges. I think it is this mentality which just keeps me going and helps me push past the fear of failure. I mean, how 20-year olds can say that they have "Events Co-ordinator" and "Insurance Admin Clerk" on their CV? The dynamic is just unreal, and I would like to encourage our readers to "take the risk" because opportunity knocks only once, and very softly. There really is something about College which I can call "home". Maybe it is the memories of walking through the hallways with your mates, or the fear that pumps through your veins during initiation. There is just this link to something deep down inside of you and coming back each time has really helped me grow closer.
Being the youngest staff member at College, and a past pupil, do you still feel like a student or have you settled well into your role as a member of staff?
Being the youngest Old Boy and being back for a fourth time is quite a humbling experience. As I mentioned, I have been building relationships with our staff as a student and I honestly feel like I have grown closer personally with them. It makes you view everyone less as "teachers" and more as friends. I mean, even Mr Dorling has a soft side! (I'm only joking, please don't give me a detention…)
Being a fairly new staff member, there will be a lot of things you can do now which you couldn't as a student (like having a coffee in the staff room or calling teachers by their first names), but what do you miss about being a student that you can no longer experience as a staff member?
Despite being back a fourth time, I still have yet to getting used to calling staff by their first names. It is the weirdest, most mindboggling concept that I can call someone something other than "Sir" or "Ma`am"!
On the plus side, the coffee is a good change yet old habits die hard and I still carry a Thirsti water bottle with me every day.
I think what I miss the most is having my peers around me. You become so accustomed to spending time with the boys you essentially grew up with and you still expect them to be working with you. Also, because I am extremely close to my juniors, it really is strange watching them grow up and leave College. Nonetheless, it is a really enjoyable experience!
To conclude, I would like to quote Eric Alan, "Everyone is my teacher. Some I seek. Some I subconsciously attract. Often, I learn simply by observing others. Some may be completely unaware that I am learning from them, yet I bow deeply in gratitude." To every single staff member and boy (Old and New), thank you for attributing to my growth and making me who I am today.
Thank you for the opportunity to be featured in your segment. This is a great honour for me, and I hope that I can inspire at least one reader with my story.