Meeting OC Staff #18
Meet Drikus Hoffman (OC 2006)
At the MCOBA, we are all about keeping Maritzburg College old boys connected to both the school and one another. However, some old collegians want to have an even stronger connection with the school, choosing to report to College each weekday morning as they did when they still adorned the mighty basher. These men are our old collegian staff members. Over the next few months, we will be getting to know these individuals. We will be finding out what they do for our school, catching up with what they have been up to since their school days, and asking a few fun questions. If you have any questions you would like to direct to any of our OC staff members, email the name of the staff member and your question to: oldboys@collegeoldboys.co.za and it may just be featured in their interview.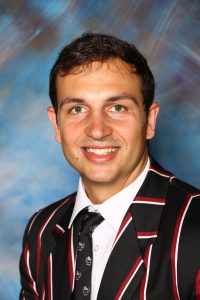 Drikus Hoffman (2006)
After matriculating from College in 2006, Drikus went to Stellenbosch University where he studied towards a Bachelor of Commerce degree, but admits, his main motivation was to play rugby. After realising fairly early on that a BCom wasn't for him, Drikus decided take a gap year and follow his parents to Sydney, Australia where they were immigrating to. During that year, Drikus played for a club called Sydney Australia, with which he won the league. Drikus spent his third year out of school back in Stellenbosch working as an intern at Shofar Christian Church, which he describes as having been fantastic. By that time, his then girlfriend (who is now his wife and the mother of his two young sons) had already obtained her degree and that lit a fire under him to get his studies in order. Drikus told us his time interning at the church had revealed to him that his calling was to be a teacher and so he spent his fourth year out of school in the first year of a Bachelor of Science degree in sport science in hopes of teaching physical science and/or maths and, of course, coaching sport. He got married in 2012 before completing his degree at the end of that year, and was back at College by 2013.
As you may have surmised, Drikus is a maths and physical science teacher; subjects which he says he has enjoyed since he himself was in school. He also cited the role played by the teacher as being important when it comes to which subjects students enjoy. That said, Drikus listed his favourite school subjects as having been Maths taught by former principal Mr Jury, Geography taught by Mr Sutherland who always had an interesting story to share, Mr Veenstra, whose son was a prefect in Nathan House this year, and Mrs Couperthwaite who is his current subject head for Physics. But teaching is not all that Drikus does at College. As he always planned on doing, Drikus coaches both rugby and hockey; 16A and 16C teams respectively. He is also the Housemaster of Nathan House, which is where all the 2nd form boarders stay.
When he's not hard at work in the classroom, on the sports field or in the boarding establishment, Drikus says he loves spending time with his wife and their two young sons, "they mean the world to me." His family enjoys braai-ing and having friends over "My three-year-old-son already knows how to pack and light a fire.!" Drikus also enjoys exercise and says staying fit is important to him. When he's not in the gym, going for a run, or playing golf, he can be found playing a friendly game of touch rugby on Goldstones with his colleagues and friends.
We asked Drikus three fun questions:
Being the dad of two young boys, what is one thing you hope doesn't change about Maritzburg College and your boys will experience exactly as you did?
The importance of values like respect, integrity and commitment, and the expectation of every College boy to embody these values. I also believe that the many rites of passage like Vietnam and the privilege system is something unique about our school and plays an important role in moulding young men.
As the housemaster of Nathan House, you are easily the first father-figure/mentor new 2nd form boarders will have at College. Do you feel that that is a high pressure position to be in and can you remember anyone who played a similar mentorship role for you when you were in school?
I don't feel too much pressure in this role as I just want to be authentic and be myself, while being cognisant of the fact that boys do look up to us. The pressure has more to do with ensuring every boy's safety and well-being and not always having control over everything that happens. I was fortunate enough to have had great coaches and teachers, such as Mr Sutherland, Mr Veenstra and many others who I looked up to.
You see current 2nd formers observe many traditions such as not being allowed to walk over speed humps and having to stand at attention in particular places or circumstances. What were the best and worst 2nd form traditions from when you were in school?
That is a difficult question because what I didn't necessarily enjoy in 2nd form I consider valuable today, as I know the positive effect it has had in shaping me. Nonetheless, I really liked the fact that whatever we had to do, we did it together, such as games room and prefects table duties. Back in my day we had something called prefects' study, which thankfully doesn't exist anymore. Nowadays all the traditions and privileges have a purpose and takes the well-being of every College boy into consideration.