Meeting OC Staff #6
At the MCOBA, we are all about keeping Maritzburg College old boys connected to both the school and one another. However, some old collegians want to have an even stronger connection with the school, choosing to report to College each weekday morning as they did when they still adorned the mighty basher. These men are our old collegian staff members. Over the next few months, we will be getting to know these individuals. We will be finding out what they do for our school, catching up with what they have been up to since their school days, and asking a few fun questions. If you have any questions you would like to direct to any of our OC staff members, email the name of the staff member and your question to: oldboys@collegeoldboys.co.za and it may just be featured in their interview.
Scelo Zuma (2009)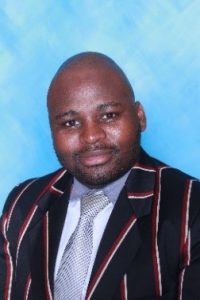 Scelo Zuma matriculated from College in 2009 and went to Rhodes University where he got his undergraduate degree. After qualifying, Scelo worked for Liberty Umhlanga before completing his postgraduate degree through the University of KwaZulu-Natal. It was in 2017 that he made a return to College to begin his teaching career, and has been happily rearing the next generation of College boys ever since.
Scelo teaches Accounting, Economics and EMS which he says he has enjoyed since his school days. Along with teaching, Scelo also coaches both rugby and basketball and is a Boardermaster in Nathan House, where all 2nd form College boarders start their journey with the boarding establishment. When he's not working hard in the classroom, sports field or the B.E, he is spending time with his family and along with Luyanda, raising their beautiful daughter Nkondlo.
We asked Scelo these three fun questions: 
I'm sure your last name leads to either many questions or bad political jokes – but, being that you share a surname with the man who used to run the whole country (Past President Jacob Zuma), if you ran College, what is something from 'back in your day' which has since been done away with that you would re-introduce.
I can't think of anything I'd reintroduce, I think the school is in a better place now than it was then. There's more of a focus on building brotherhood through shared positive experiences instead of mutual trauma now. I like that; it's a healthier environment for the boys. The school has made some incredible progress; I wouldn't want to undo that.
What has been your favourite coaching memory either from when you were coaching or being coached?
Instead of my favourite coaching experience, I'll share my favourite human experience at the school. On my first night in the BE, news came in that one of the boys' family members had passed away. Upon finding this out, the boys all went outside and stood outside in a big circle; sharing words of encouragement and scripture – it got very emotional. This was amazing because these were boys in second form who had just arrived at College a few weeks prior and didn't even know each other that well.
If you had to join a class at College as a student, which colleague's class would you want to join, what subject, and why?
I think I'd be in Ngcebo Thembela's Economics class. Not only do I enjoy economics as an economics teacher myself, but I know he has a deep passion for the subject and is inspiring the next generation of entrepreneurs. He's a phenomenal teacher and always goes the extra mile for the boys.