Meeting OC Staff #7
Meet Lukas Booysen (OC2013)
At the MCOBA, we are all about keeping Maritzburg College Old Boys connected to both the school and one another. However, some old collegians want to have an even stronger connection with the school, choosing to report to College each weekday morning as they did when they still adorned the mighty basher. These men are our old collegian staff members. Over the next few months, we will be getting to know these individuals. We will be finding out what they do for our school, catching up with what they have been up to since their school days, and asking a few fun questions. If you have any questions you would like to direct to any of our OC staff members, email the name of the staff member and your question to: oldboys@collegeoldboys.co.za and it may just be featured in their interview.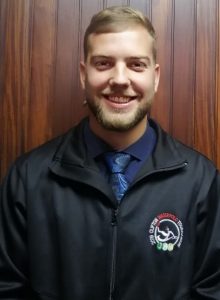 Lukas Booysen (OC 2013)
Lukas matriculated from College in 2013, which was also the 150th birthday of the school. He was the recipient of the first ever College Foundation Bursary which funded a portion of his tertiary tuition in exchange for three years of service after graduation. Lukas elected to do a 3 year BA degree at the University of the Free State, and so, returned to College in 2017 as a staff member. This his fourth year on the College staff and he says he's still "going strong."
Lukas is an Afrikaans teacher which is no surprise seeing as Afrikaans is his home language and he aced it in school. "Afrikaans was a breeze, it's my home language but I was doing first additional at school," he told us. Lukas says his favourite subject in high school was technical drawing and adds jokingly "Did I become an architect or engineer? NO, but I still enjoyed the subject." The loss of the Engineering and architecture industries was College's gain in this case as Lukas doesn't only teach Afrikaans. He also teaches Geography and P.E, coaches the third team Waterpolo side and was the manager for the first team Waterpolo team last year. Last winter he coached the under 16A rugby side under head coach Tim Orchard and together the two led the boys to a very successful season in which they finished fifth in the country. Lastly, all year round, he is a boarder master in the Incomparable Clark House.
When he isn't working, Lukas says he enjoys fishing as it takes his mind off work and other responsibilities, really allowing him to relax and just enjoy the environment. While the lockdown saw many people not being able to do what they normally could, Lukas took the opportunity to learn to do something new, which he previously couldn't. "During Covid-19 I was also fortunate enough to learn how to ride a horse and play Polo-Cross so that is one of my new hobbies."
We asked Lukas three fun questions.
You were the first recipient of a bursary which meant you'd have to return to work at College for three years, does this mean that you always wanted to be a teacher?
I wanted to be a biokineticist because I really enjoy sport and wanted to be involved with sport after school, but being a teacher was always in the back of my mind. Now I have the best of both worlds. I am able to teach young men and play an active role in their lives and I am able to coach sport and be involved with sport.
Now having been both on the rugby pitch as a player and on the side-lines as a coach, which do you prefer and why?
I must say, playing rugby will always be my favourite. I really enjoy the sport and I don't plan on stopping anytime soon. Coaching is very nice, but it is hard and very stressful at times, albeit rewarding.
You were all set to be teaching English in China this year until the Covid-19 pandemic threw a spanner in the works. Do you have any words of advice/encouragement for other members of the OC community who have had disappointing cancellations this year? (i.e. Reunion/Vet's Lunch)
Yes, Covid-19 has had a huge effect on a lot of people. I think the College community is so strong and they always stick together. Even though a lot has been lost this year. The college community has tried their very best to still make this year as normal as possible and they have not only helped me, but a number of other people. I am very grateful to have attended an institution like Maritzburg College and I would like to thank them for everything that they have done.