Meeting OC Staff #8
Meet our Director of Cricket – Kyle Nipper (OC 2005)
At the MCOBA, we are all about keeping Maritzburg College old boys connected to both the school and one another. However, some old collegians want to have an even stronger connection with the school, choosing to report to College each weekday morning as they did when they still adorned the mighty basher. These men are our old collegian staff members. Over the next few months, we will be getting to know these individuals. We will be finding out what they do for our school, catching up with what they have been up to since their school days, and asking a few fun questions. If you have any questions you would like to direct to any of our OC staff members, email the name of the staff member and your question to: oldboys@collegeoldboys.co.za and it may just be featured in their interview.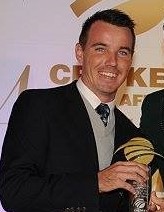 Kyle Nipper (2005)
Kyle Nipper matriculated from College in 2005 and went straight into playing cricket professionally and coaching. He came back to Maritzburg College as a staff member in 2017 and has therefore been working at the school for almost three years now.
As you've likely surmised, Kyle is the Director Cricket of College and thus plays an integral role in the success of all College cricket teams. The huge task of heading up such a prominent sport at a massive and highly competitive school like College is not an easy task, and yet, Kyle does not only that but also teaches Life Orientation, assists with the 1st XI hockey side and is a boarder master at the relatively newly built Shepstone House. Kyle told us the subject he now teaches didn't exist when he was in school but he always enjoyed Economics and Geography. When he's not doing one of his many jobs in the school, Kyle can be found helping out in any department that needs extra hands. For that reason, he doesn't have much free time, but he did give us a little insight into how he spends any time off he does come cross, "if you had to ask my wife or my 2 year old daughter, they would say I play lots of golf."
We asked Kyle three fun questions:
Who of your colleagues do you think would be your favourite teacher if you were a student?
As a pupil, I really enjoyed Mr Sutherland and he is still around today so I am sure he would have even more stories to tell now. He always had an interesting story or cautionary tale to share and that made it really easy to stay engaged and listen to him even when the conversation refocused on the syllabus.
During lockdown (once the regulations had eased up a little) it was rumoured that you were quite the force to be reckoned with during staff tennis games. If you weren't director of cricket, which sport would be a close second for you?
Definitely not tennis, those are definitely all rumours and false news. Probably soccer or hockey. Soccer was always my first love growing up. I'm still an avid supporter and would of course welcome any opportunity to be more involved in it.
Cricket is seen as a fairly safe game in comparison to some contact sports like rugby, but the protective gear suggests an element of danger. What is the worst cricket injury you have ever experienced or witnessed?
I played in a tournament a couple of years ago where, while fielding, myself and another player collided trying to go for a catch. We were at full speed and I ended up with a couple cracked ribs and a bruised lung and he broke his collarbone and a finger. Maybe serious injuries are slightly less common, but cricket is by no means a risk-free sport.