Meeting OC Staff #9
Meet Bryan Dibben (OC1969)
Meet Our OC Staff Members         
At the MCOBA, we are all about keeping Maritzburg College old boys connected to both the school and one another. However, some old collegians want to have an even stronger connection with the school, choosing to report to College each weekday morning as they did when they still adorned the mighty basher. These men are our old collegian staff members. Over the next few months, we will be getting to know these individuals. We will be finding out what they do for our school, catching up with what they have been up to since their school days, and asking a few fun questions. If you have any questions you would like to direct to any of our OC staff members, email the name of the staff member and your question to: oldboys@collegeoldboys.co.za and it may just be featured in their interview.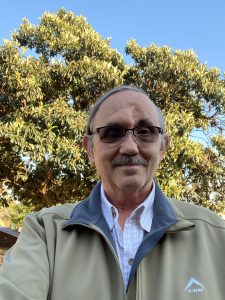 After matriculating from College in 1969, Bryan Dibben had many educational opportunities which he says he didn't make the most of. It was not until after he was involved in a serious motorcycle accident that he realised he had to get his life back on track by spending time catching up on what he had missed and doing what he believes he should have been doing from the onset. Bryan went on to qualify as a maths teacher, starting his career at Kloof High School in 1978. After clenching a promotion, he moved to Kingsway High School as an HOD where he worked with future College Headmasters, Dudley Forde (then headmaster at Kingsway), and Ken Elliot (then deputy headmaster at Kingsway). After 14 years of teaching, Bryan left it behind to develop a leadership centre with Dudley Forde. Unfortunately, broken promises from sponsors put a spanner in the works but thankfully that led Bryan back to teaching and he came straight back to Maritzburg College. That was over 28 years ago.
Bryan is a teacher, an HOD, the Director of IT, the Deputy Headmaster of Operations, and, after retiring from this role, he stays on as an external IT and Operations Development Specialist. Bryan was also the MIC of tennis for the first 8 years of his College career and coached some cricket. Arguably, his biggest role is that of being the designer of and running the admin systems for the entire school.  He says that going into this field was no big surprise to him as maths was "by far" his favourite subject. Bryan says this culminated from "the privilege of being taught by maths teacher supreme, Hector Commons, in 5th and 6th form. But, Bryan isn't purely left-brained. In fact, his next favourite subject was art, which he says he thought he was fairly good at until the headmaster phoned and persuaded his mother to ensure art wasn't amongst his subject choices.
When Bryan isn't working, he enjoys spending time out with his wife, going out for anything from a cup of tea to a few nights at a hotel. They both are keen walkers and will take a stroll whether they find themselves in the mountains or along the sea shore, with the Durban Beachfront Promenade being a particular favourite. Bryan is also an avid reader and loves few things more than getting lost between the pages of a good book. Bryan happily added that another hobby of his forms a big part of his job. This is what he had to say about the aspect of his job he loves the most:
"I have never played computer games in my life, but I do have a game on computers, programming.   I love programming, solving problems and being creative, getting the computer systems I work with to do what we need them to do, plus anything else I can dream up.  I have links my computer(s) on a pull-over table next to my bed and I will get onto things at any stage of the night or day.  That is why I told Chris Luman that if they want to replace me at College they will have to find somebody who sleeps with his computer."
We asked Bryan three fun questions:
 You went to school at College, worked at the school, and even now, after retiring, are staying on as an external consultant. What is it you love so much about College?
I love the camaraderie and the collegiality which always exists on the staff. College staff work hard and play hard and they care for one another. I also like, and appreciate, the fact that there are always resources available for you to be the best that you can be. Jabs Mhlongo, a well-respected wise man on the staff, has always said that teaching at College is like "being in paradise," and that those who have never taught elsewhere had better believe it!
Your son Michael is also both an OC and current staff member, what is the biggest difference you've noted from when you were in school at College vs when Mike was?
I am not one to moan about "back in the old days".  The College which I attended was a jungle (merely a personal observation), a College where you had to fit in, "shape up or ship out!" Heaven help any boy who did not fit the mould, who was "different." If anybody thinks that there is a divide now between boarders and dayboys you should have had a taste of it back then. The divide between staff and boys was even greater! We were not allowed less than 25 yards (no metres in the dark ages!) from the staff room door! In today's Maritzburg College everybody is accommodated. The school has a place for every boy, every boy has the opportunity to find friends and the divide between traditions and bullying is closely monitored. Staff are approachable and there just seems to be far more care about boys' welfare, about their feelings, about their personal needs. Perhaps it is because I am looking from the other side now? But either way, I like what I see.
Having fulfilled so many roles at College (student, staff member, parent) which has been your favourite and why?
The teaching, always the teaching, the achievement of being told that while boys hated your subject they still liked your lessons. In the classroom boys, become boys again. They enjoy chatting with their teachers and they enjoy the attention.  When they are outside again they become formal, no longer the same smiles from inside the classroom, and the formal College "Sir" which, I think, means "Good morning, sir." The challenges, and opportunities for success, remain the same, getting boys to achieve to the best of their ability, and very few of the boys have ever disappointed me. There are also the games, and they are games of maintaining discipline in the class without boys feeling that you were doing it, and of "conning" the boys to do what was best for them.