Meeting OC Staff #19
Meet Renard Goi Le Roux (OC 2014)
At the MCOBA, we are all about keeping Maritzburg College old boys connected to both the school and one another. However, some old collegians want to have an even stronger connection with the school, choosing to report to College each weekday morning as they did when they still adorned the mighty basher. These men are our old collegian staff members. This is the latest in a series of articles which aim to share a little more about each of these special men.
If you have any questions you would like to direct to any of our OC staff members, email the name of the staff member and your question to: oldboys@collegeoldboys.co.za and it may just be featured in their interview.
Renard Goi Le Roux (2014)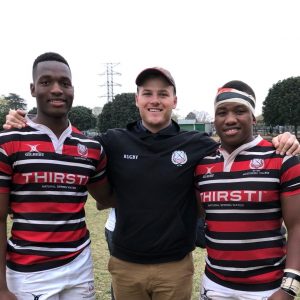 Goi matriculated from College in 2014 and describes the school as a place which changed his life. "Coming into College I could hardly speak a word of English, and now I'm an English teacher who studied the language for three years at university" Goi shared with us. He says amongst other things, College taught him a lot about himself, which he will always be grateful for. After playing first team rugby for two years, Goi matriculated with a scholarship from UCT and Western Cape Rugby to play rugby and study law. After a freak accident in his first year, Goi suffered a tragic injury which ended his rugby career just as it was about to begin. Goi took a year trying to recover, and in that time, underwent three surgeries but eventually decided to leave the club. It was during the time that he spent trying to recover from his injury that he realised he wanted to work with the youth, helping future sports stars realize their potential and achieve their dreams. He re-joined Maritzburg College in 2016 as an intern while starting his BA in psychology in the meantime. Having finished his degree, as well as obtaining a PGCE, Goi is now all set to start his honours degree in Psychology this year. He hopes to use his passion for rugby along with his formal education in psychology to shape the lives and careers of young athletes and eventually coach professional rugby himself.
Goi is an English teacher but has also taught history and Life Orientation. Being an avid reader and having a natural love for writing, Goi says his favourite subject in high school was easily English. "I love literature. There are so many life lessons to be learned in this subject." Along with teaching, Goi is also a housemaster in Hudson House, he recently became the Assistant Day Housemaster of Lamond and he coaches athletics. But his first love and what he describes as his "pride and joy" is coaching the first XV rugby side.
When Goi isn't at work on Goldstones or in the classroom he says he likes to stay physical. Whether he's clearing his mind on the golf course, or lifting weights in the gym, Goi says he enjoys being active and those are his two favourite ways to stay moving. If he's not working or keeping fit, however he says nothing beats kicking back and spending time with his friends and family.
We asked Goi three fun questions:
Having both played and coached 1st team rugby at College what do you think sets Maritzburg College rugby apart from rugby at other schools?
I've been very fortunate to not only play first team rugby at College but also to be coaching it now. It has been a wonderful experience and I am incredibly grateful. What sets Maritzburg College rugby apart is very clearly the legacy, the traditions and the attention paid to the small things.
Another unique thing about rugby at College is that every team matters. From 14F right up to first team, we all play for our jersey and our jerseys are all the same, we're unified by one badge. One thing I really love about College is the diversity, and it's how all these different parts come together to make a whole that makes College so special. We have a mighty rugby fraternity. I mean, we're the school with the most rugby teams in the world, so you can see how important the game is.
College has produced players like Butch James and Jesse Kriel, and our current boys can look at that and have a standard to uphold but also know that College will open the right doors for them and they have a valid shot at a rugby career.
Stories are still told in the staffroom of when you became a student at College and how everyone immediately liked you, you seem to have been every teachers' favourite student. Was there any staff member who you felt played a particularly big role in your life or made a lasting impression?
I think at College, we have such wonderful teachers, and the fact that they're so good at their jobs makes it very easy to be a student or colleague of theirs. There have been many staff members who have had a profound impact on me. Graeme Waters was the first teacher I really got to know at College, he was also the man responsible for getting me into the school. He played a big role in changing my life and is still some I look up to now on a daily basis. Mrs Ailsa Greyling was also a huge part of my high school life. Just having an Afrikaans "tannie" around asking if I was ok and having a genuine interest in how I was. She was consistently there for me and that was an invaluable benefit. I can't leave out Debbie Martin, who was my English teacher. She is responsible for my interest in English. I absolutely love her teaching style and the way she cares about her pupils. Mr Dorian Larter, who has unfortunately left College, was phenomenal and helped me become the man I am today. He helped me realise the importance of having the right morals, values and standards and I will always be grateful for that. Last and by no means least is Mrs Orchard, she played a huge part in my life and I was very sad to see her go at the end of last year but the rest is certainly well deserved.
You're well known as having been a College rugby star in your days as a student here. But you must've played other sports during your school days. What is your favourite memory from a sport other than rugby?
Yes, rugby was my passion but I also loved athletics. I firmly believe that doing well in athletics contributed greatly to how good I was at rugby. I have Mrs Greyling to thank for that; she was head of athletics at the time. I was a sprinter and ran 100m and 200m, which is pretty wild for a flank who weighed 100KG at the time. My favourite memory of athletics was winning the 100m race for u19 at College. I'll never forget the "gees" and spirit, and just how amazing it was to run the 100m in front of the boys. I remember them singing "Le Roux, Le Roux, Le Roux is on fire" so I really enjoyed that, it's a special memory and I still enjoy inter-house athletics to this day. Getting colours for athletics and representing KZN were also two very special experiences.
I would also like to emphasise how appreciative I am of College, this place has become my home, I admire everyone I work with and I'm incredibly grateful to be a part of this very special school. I really look forward to 2021 and think that against all odds we will have a great rugby season. Between our first class training and high performance facilities and our dedicated staff, our boys are guaranteed the benefits of a full season even if the pandemic disallows interschool competition.