Message from a Khanyisa Peer Tutor
6th former Ta'riq Mohabir shares what being a Khanyisa tutor means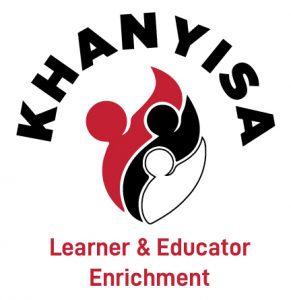 From the students, to the environment, to the bonds and to the hardships…
Khanyisa is not just a programme, but an environment where hard work is acknowledged and where goals are accomplished. Retrospectively during my time at Khanyisa, when walking into a room full of peers who are in the same educational system as ourselves, I can see the hardships that endure. You can see that each student has a story to share.
Khanyisa has provided me with great opportunities to make an active impact in the support of many students' education. When you are in such an environment, you feel the effort these student put in and the faith they keep to achieving what they ultimately want to achieve.
To most of my peers, taking a Saturday out to help others for up to 6 hours, seems time-consuming. However, I would take 12 hours if I have to, due to fact that I get to see close to 120 people smiling and laughing and I am so grateful for this. Being exposed to such students, creates a heart-warming feeling.
In my opinion, Khanyisa has taught me a lot besides how to interact with students. It taught me to be grateful for the resources and opportunities I receive. It taught me that I am privileged to be in a school like Maritzburg College. It has also taught me that it doesn't take much to be generous to others, be it an elder or a peer for schools who are underprivileged.
When I came to offering a simple pen or a box of pizza, every student's reply, without fail was either, "God Bless", "Thank you so much for your sacrifice" or just a simple "I appreciate what you have done for us". Hearing that, empowers me and proves to me that I have made an impact on someone's life. This shows that besides Khanyisa having a benefit on a community based level, it teaches us that there are students who are underprivileged and need support and effort to make it through this challenged stricken year.
Unfortunately, our world and home; South Africa and Pietermaritzburg, has been hit with a pandemic and drastic changes had to be implemented. This resulted in us as peer tutors, no longer taking an active involvement in the remainder of the 2020 Khanyisa tutoring year as the students moved onto online learning.
I would like to personally thank Miss Thobeka Shata, Mrs Vicky Chedie, the Khanysia Teachers, my fellow peer tutor brothers and the students for the amazing experience that you have given me. To the parents of the students; it was an absolute honour to have been a part of the success of your children's final years in schooling. I have no doubt that whatever they set their minds to do they will achieve. To all the future peer tutors of Maritzburg College, never take this interactive bond with students of the programme for granted, because trust me, this becomes less of a chore and more of a family.
I just wanted to leave the future of Khanyisa with this:
"Strong as a unit, Weak alone. Stronger in Khanyisa, Weaker in being alone. My fellow brothers and sisters, we achieve greater goals together than achieving alone. The sky is never the limit, keep achieving"
Ta'riq Mohabir, 6th Form, Peer Tutor of Khanyisa Programme