OC is aiming for 10th Dusi at 80
Dusi Legend & OC Hugh Raw
Hugh is often asked where his love for canoeing began and how far back his journey with the sport goes. He has always enjoyed messing about in boats and on rivers, even from a young age, although canoeing was far from becoming a school sport when he was at Maritzburg College. At school, he was a keen hockey player and was in the first all-college-boy hockey team to play in the city league before it became an official school sport. So while his biggest mark is undoubtedly in the world of canoeing, Hugh has always been a keen sportsman.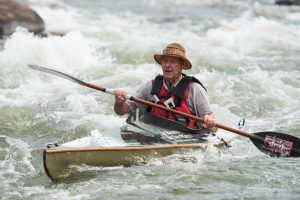 The history Hugh shares with the race is an interesting one. He co-owned a fibreglass business in the late seventies, manufacturing everything from water tanks to canoes. This led him to take a greater interest in the sport of canoe racing and of course the Dusi itself, which was considered the canoeing equivalent of the Comrades Marathon. Hugh took part in his first Dusi in 1981 at the age of 41. Over the last four decades, he has spent many more years helping out in various ways (famously his boat repair station at the overnight stops) other than actually competing. In the process, he has assisted innumerable paddlers to complete the race. To date he himself has completed nine Dusi's – this will be his tenth which will earn him his "green" number.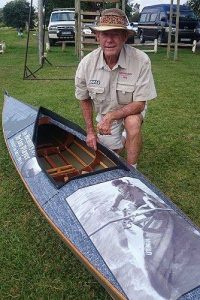 Hugh's last Dusi was in 2015. What makes this particular year stand out is that Hugh did the entire race in a heavy and cumbersome wood-and-canvass canoe in honour of Dr Ian Player who passed away a few month before the race. Dr Ian Player was a pioneer of the sport of canoeing and was the winner (and only finisher) of the very first Dusi in 1951. It was quite an achievement and a fitting tribute to finish the race in a canoe identical to that used by the early legends of the race.
Hugh is a very active OC and extremely proud that his two sons and three grandsons (including Kei Raw – 2019 and Cuan Raw – 2023) have followed in his footsteps at Maritzburg College. Both Darron and Shane were introduced to canoeing at an early age and completed their first Dusi at the age of 15 while attending MC. Brayden is 17 and currently in 6th form at MC. This will be his first Dusi. Brayden's paddling interests lie more in pure white-water, evident by the fact that he kayaked the rapids of the Zambezi at the tender age of just 14. He has however agreed to keep "grandpa" company on this year's Dusi; the team is looking forward to the shared experience. That's assuming, of course, that the younger generations can keep up with Hugh!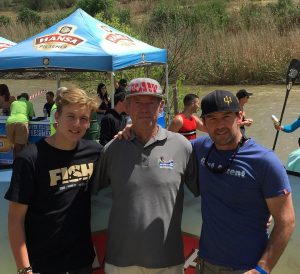 Please briefly introduce yourself and your team?
Hugh Raw (1958)
Darron Raw (1988) – My son
Shane Raw (1991) – My son
Brayden Raw (6th form – 2021) Shane's son
Does doing the race in a team as opposed to solo make it less or more challenging? How so?
Paddling in a K1 (single seater canoe) is a solo sport really. When you are on the water no one can help you paddle your own canoe and you take sole responsibility for the decisions, successes or failures you encounter on route. It can be lonely at times. Obviously, in a K2 all of those elements are shared but working together harmoniously with your teammate becomes a crucial factor. It's sometimes considered as not a recommended activity for husband and wife, unless you have the right stuff! For this year's Dusi we will all be in K1s but we have decided we will stick together to share the experience and also to be able to provide assistance to each other should we encounter any hiccups along the way.
The Dusi is internationally acclaimed, what do you think sets it apart from other races of its kind?
The Dusi really is a one-of-a-kind race, and just one of the reasons for that is that it involves a significant amount of portaging as well, (this is when you take a short cut by picking up your canoe and carrying it along a windy footpath over a hill and back to the river on the other side). To sum it up, you start with a relatively fragile fibreglass canoe and go crashing off down a remote river valley for 120 kilometres over rapids, weirs, sandbanks etc. until you emerge at Blue Lagoon 3 days later. What happens in between PMB and Durban can vary vastly depending on the conditions of the day. Temperatures in the valley can soar into the forties, if it rains the footpaths become treacherous. The slightest lapse of concentration can result in a broken or leaky boat, and then the fun really starts! Oh, and don't forget the wildlife. The Dusi valley is famous for Black Mambas, among other things!
How long does it take to get ready for a race like this? With lockdown and gym/water sports closures, how have you kept fit enough to compete?
Preparation for this Dusi has definitely not gone smoothly. With the hard lockdown last year, I wasn't able to get out and train and definitely lost condition and fitness. The best I could do was to carry bricks up and down my steep garden for training. Since things eased a bit, I have been able to get back on the water but it has been a slow process to regain that condition with a couple of other mishaps slowing the process further. The fact that the race was delayed by a month turned out to be a good thing as this allowed me a bit of extra training time on the water. Doing some of the warm up races has also helped to get me back on track.
What advice would you give to someone who is competing in the race for the first time this year?
You can't hope to be fast if you are unprepared. If you want to race you must put in the hours to do a proper recce of the race route. Even if you don't want to be fast it is essential to know where to go on the rapid sections and many other obstacles along the route. Knowing where to go can save huge amounts of time and energy, not to mention damage to your canoe, on the day.
If you could use one word to describe both College and the Dusi Canoe Marathon, what would it be?
It's three words so we'll join them with hyphens and it describes an attitude: Never-give-up!