OC Rap Artist on the rise
A moment with Eric Zulu (OC2014)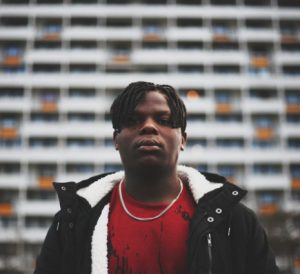 Eric Zulu matriculated from College in 2014, and has since created a name for himself in the music industry. Eric's fanbase is largely rooted in Germany but he has listeners across multiple countries and certainly a supporter in many fellow old boys. This up and coming rap artist is definitely only getting started and has a booming career to look forward to. We were lucky enough to secure an interview with Eric so we could find out a little more about him, his music and his time at College.
What year did you finish school at College and is there anything you think sets your year apart?
I matriculated from College in 2014. In the entire 5 years that the class of 2014 was in high school, we were the only year to beat Affies and had two unbeaten seasons within our time.  As a keen rugby player myself during my school days, I know that that was unheard of and it's an achievement I am still proud of today. Definitely the first in a long list of what made my year great.
What do you miss most about College, which you've never experienced anywhere else?
Definitely the camaraderie. We all had respect for each other despite all our differences. Whether it was on the sports field or elsewhere we were always there for each other, loyal to each other, it was like having hundreds of brothers. Even now, as the broader College community, we still look out for one another. The shared experience of attending College is a bond that never dies. Even my friend group from my school days is still as close as we have always been. You don't really get that elsewhere.
What is one lesson you have learned during your time at College that has stayed with you or which you still live by?
The most important one for me was to respect everyone. All things aside, no matter what you think of someone or how you feel about them, you should treat them with respect. College really emphasises that and it's important to me because I wasn't really like that before I went to school there. I fast learned though that the best way to earn respect is to be respectful, help where you can, be mindful of how you speak to people, and it's a wonder the difference that'll make in how you relate to people.
What have you been up to since finishing school?
Well, I actually got married in 2015. In June of 2015, one year after leaving school, I got married. In the same year, I moved to Germany, where I now live with my wife and our four-month-old baby girl. I haven't been too closely involved with South Africa since then, don't think I've been back in about two years now but I keep in close contact with my family and friends of course. I also started music career and other than that I've just been travelling. I have family in America and live in Europe so I've just been bouncing between there and here, experiencing new places.
Do you think your time at College played any part in where you are now? How so?
Definitely. I don't think without all the skills and lessons I learned at College I would've been able to make it this far. My time at College comes into play everywhere really. From simple things like holding a conversation and making eye contact when you speak to someone to the way you present yourself as a whole; always looking neat and being polite. People actually often comment on my demeanor, the way I approach meeting new people, and how I conduct myself. I definitely have College to thank for all that.
We heard about your new EP. What exactly is an EP and how do we support you and your music?
An EP is pretty much a short album. Mine was released this year on the 12th of February and has 5 tracks. The best way for anyone to support my music would just be to listen to it and share as much as possible. Posts on social media, word of mouth, all that goes a long way. If anyone has contacts in radio or television, getting my music played on a platform like that would be exciting. In all honesty, it has and is going quite fast but it would be nice to have a bigger fan base in South Africa. Follow me on social media, follow my music and new releases, stream my tracks, I'd really appreciate that.
Do you have any advice or encouragement for our new generation of College old Boys after the disrupted matric year they had due to the pandemic.
I think they need to just have an understanding of the fact that all of the things that have happened around the global pandemic are out of their control. It can be quite daunting to face the fact that some things are out of your hands but in this case it's more frustrating to try plan and predict. Definitely I would say understanding and patience is very important during this time, all we can do is wait for some form of normalcy and just keep pushing and working. I'd also say they need to stick together and support each other, this is a significant shared experience they have and they should use that to come together and support one another.