Old Collegians Come Together
Visit from John Larkin OC 1972 & former Head Prefect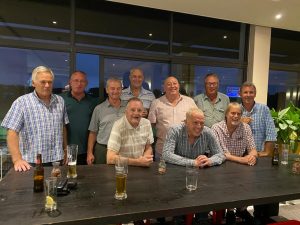 From Left (Back): Mark du Bois, Mike Brandsma, John Larkin, Peter Bodill, John Nolte, Brett Kjonstad, Craig Dohne.
From Left (Front): Dudley Forde, Neil Painter, John Slatter
Weeks before words like 'lockdown' and 'social distancing' became part of our daily language, 10 Maritzburg College old boys met at a bar and catch up over a beer.
Members of the class of 1972 decided to hold an impromptu gathering at the Durban Country Club on the 15th of March suggested by their old head boy John Larkin who was visiting from the USA.
Many of the 1972-ers travelled far to attend; even from the likes of Harding. They were joined by former principal Dudley Forde, John Larkin's older brother Keith Larkin and then 3rd former, Peter Rodseth.
Naturally, much of the evening was spent swapping war stories, and memories of the mischief themselves and their classmates would get up to when they were still in school.
A highlight was a memory shared by Forde which told the story of a year when a prank was played on a master involving propping his car against a tree near the iconic Clark House. The principle at the time, Mr Hector Commons, insisted the fathers of the culprits be billed only to find his own son was one of them.
The group has vowed to re-gather in even greater numbers for their 50th year re-union in 2 years' time and we certainly hope they do.
"Maritzburg College remains woven into the fabric of who we are and all that we do."
Dudley Forde
Headmaster (1986 – 1991)