Our MCOBA logo
Standardising the MCOBA Logo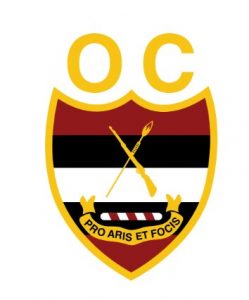 What exactly is the correct logo?
In preparation for 2019 Reunion weekend we started looking at making new ties and memorabilia for Old Boys to purchase on their visit back to their alma mater. It was noticed that there were a lot of different versions of the MCOBA badge out there. Added to that, the colours and dimensions of our memorabilia also differed significantly. An example was the distance between the stripes and the width of the stripes on our Old Boys' ties. Coupled with a few different shades of red – we ended up not being able to tell our suppliers exactly what we needed – and the result was a number of different versions of ties, blazers, badges and logos.
We then looked at the badge itself – fortunately there were many examples of blazer badges going back to about 1930 that we could draw on. We also had many examples at the annual branch functions that we could use as a reference. And each of these varied somewhat too.

Notice the Red/Black/White stripes and how they differ between 4 or 5 stripes. Also notice the angle of the Assegai & Carbine – the design of both items differ. The decision was then taken to make sure we had consistency so that we could have a standard badge with standard colours – for all our memorabilia. The big question was: where could we get this without starting a healthy debate? Where could we find something cast in stone, so to speak? The World War 1 memorial was the obvious choice.
A fellow OC – Kevin Wright was then tasked with converting this into a reality. He has developed a full "brand bible" which includes our badge, the correct colours for printing and embroidery, tie and blazer designs – all standardised so that we can ensure uniformity to the tradition.
The standardised badge has the five (5) stripes that mirror the basher band – and the scroll, assegai & carbine all mirror the carved badge on the War Memorial across from Clark House. This logo will now be used as the standard for MCOBA memorabilia and branding going forward. A very interesting process that was followed and thanks to Linda Laubscher, Andrew Soden, Matthew Marwick, Sally Upfold, Kevin Wright, Rob Warr, Mike Bond and past and present members of the MCOBA Exec for their valuable inputs.