Presentation to College by Golfing OC Boyd Edmondson
Special trophy replica to be displayed at College
Last week, the captain of the Emirates Golf Club, Boyd Edmondson (OC 1987), presented the school with a very grand looking golf trophy.
This is a replica of the trophy that is presented to winners of the Omega Dubai Desert Classic – and amongst the illustrious past-holders of the trophy one finds Tiger Woods, Rory McIlroy and our own Ernie Els. This generous gift to the school will be displayed in the Kent Pavilion and is accompanied by a framed picture of the Emirates Golf Club. Thank you, Boyd!
We have been following Boyd's journey over the past few months. Here is a reminder of those articles:
https://maritzburgcollege.co.za/boyd-edmonsons-journey-continues/
The trophy itself is in the unique shape of a dallah, which is a traditional Arab coffee pot used for centuries to brew and serve Qahwa, an Arab coffee.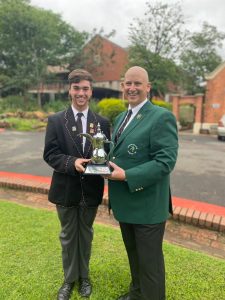 After a word of thanks from the President of the MCOBA, Grant Little (OC 1985), Boyd presented the trophy to Ethan Gough, College's golf captain for 2020.
College has enjoyed considerable success at golf, especially in the last few years. As recently as 2019, four College boys featured in the KZN U18A and U18B teams that took part in the SA High Schools Champions Golf Tournament, with two boys (Ethan and Sean Paxton) earning selection for the SA Schools team. What a great shame that Ethan wasn't able to have another punt at the national team this year!
Other notable golfers to pass through College include other SA Schools' selections, as well as the evergreen captain of the current KZN team, Gavin Sole (OC 1988), and current professionals and former Protea, Neil Schietekat (OC 2001) and Malcolm Mitchell (2013).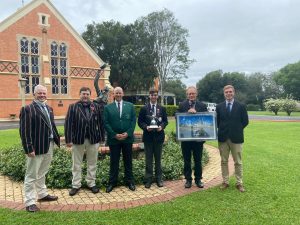 Posing with the new trophy are (from left to right) Kevin Smith (OC 1985 – Director of College Business), Grant Little (OC 1985 – President of the MCOBA), Boyd Edmondson (OC 1987), Ethan Gough (captain of golf 2020), Darryl Trodd: (MIC of golf) and Brandon Swart (OC 2001 – Deputy Headmaster: Co-curricular)