Project Melokuhle – OC takes on the World's Toughest Row
Grant Blakeway (OC1980)  prepares for the Talisker Whisky Atlantic Challenge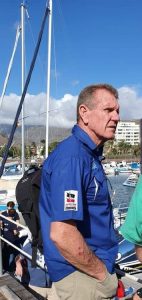 Maritzburg College Old Boy Grant Blakeway (Class of 1980) begins a 4800km solo ocean row on 12 December 2020 – 40 years after matriculating from this fine school. The Durban businessman is the only South African competitor in this year's Talisker Whisky Atlantic Challenge, an epic voyage from La Gomera in the Canary Islands to English Harbour in Antigua & Barbuda. Grant hopes to complete his crossing in about 55 days (depending on the weather and conditions at sea) to raise awareness about marine plastic pollution – and to raise funds and awareness for three amazing initiatives, including his alma mater's 100 Million For College campaign.
Known as The World's Toughest Row, the Talisker Whisky Atlantic Challenge (TWAC) is the premier event in ocean rowing. Participants may row solo, in pairs, or in groups of up to five people. Grant is competing as a solo rower, in a newly designed ocean-rowing boat that is the first of its kind to feature in the race. Grant's LB4 vessel was designed by Ruairi Grimes, produced by Leven Brown Adventure in Scotland, and constructed by Dmitry Rezvoy in Ukraine, with additional project management by Mike Watson of Wild Star Legends.
Grant says that from the moment he saw his first Talisker Whisky Atlantic Challenge video on YouTube, he knew this was a challenge he wanted to take on. "The race has everything that I've been looking for: a test of endurance and willpower to complete the journey, and a platform to highlight and support very worthwhile causes," he explains. The TWAC garners substantial media coverage every year, with an estimated PR reach of more than 3 billion people. "Thinking about rowing across an ocean also brought back vivid and fond memories of my English teacher, the legendary Chunky Willis, who introduced me to Ernest Hemingway's The Old Man and The Sea, which I've never forgotten," adds Grant.
Grant knows that he's in for a tough race. "I have no illusions about the task at hand and I know it is a huge challenge, but no matter how much I will be hurting, I'll always keep in mind that there are people feeling far worse and hurting far more than me at any given time." He quotes Larry Lionel Kendrick, who wrote: "Life is not always easy to live, but the opportunity to do so is a blessing beyond comprehension. In the process of living, we will face struggles, many of which will cause us to suffer and to experience pain." Grant says that he, like many a College boy, is very conscious of this blessing.
Grant is currently in Scotland for practical training aboard the LB4. This year's COVID-19 lockdowns, in South Africa and around the world, have had a significant impact on Grant's TWAC preparation. However, in true College spirit, he's rising to the challenge and pushing hard to achieve the milestones necessary before his departure to La Gomera later this year. "You don't overcome challenges by making them smaller," Grant says, quoting John C. Maxwell. "You have to make yourself bigger and strive to succeed – and I think that's something every College boy understands."
Grant has appealed for support from the Maritzburg College community, specifically those Old Boys based in Scotland and other parts of the UK. The LB4 could not be shipped from the UK to South Africa during the lockdowns and, as a result, no boat branding has been done. Grant would appreciate help from any Old Boys involved in sign-writing or branding who are able to assist with decals or wrapping to showcase the College colours on the LB4 – a 9m floating billboard that is currently a blank canvas.
Grant plans to drive from his current base – the Findhorn Marina, near Forres – to Portsmouth on 20 November 2020 in preparation to board the ferry, with his LB4, for the crossing to the Canary Islands. Any assistance with sponsorship for satellite data/airtime (in order to send photographs from sea), or contacts who are able to get discounts on the ferry crossing (an unplanned expense now necessary because of lockdown delays), or offers of accommodation (and a safe place to park the boat-and-trailer) near Portsmouth would be greatly appreciated.
For more information, please reach out to Grant directly, by phone or email:
Grant's UK phone number: +44 734 024 8372
Grant's SA phone number: +27 83 298 0138
Grant's email address: dtsolutions@mweb.co.za
Please CC Grant's wife, Adri (adri@timesensitive.co.za) and Grant's social media assistant, Janine (janine@grantblakeway.com) when you email him, so that they can help with inquiries.
Visit Grant's website – www.grantblakeway.com – to learn more about his charity partners: The Maritzburg College Foundation, the Two Oceans Aquarium Education Foundation, and White Shark Projects. And be sure to follow him on Facebook, Instagram, and Twitter – @teamblakeway on all channels – for news, updates, pictures, and videos.
You can also join the TWAC audience and become a Dot Watcher by downloading the Yellow Brick Races app from Google Play or the App Store. Grant will be tracked during his race, and you can follow his "dot" (a colourful representation of his boat) as he rows across the Atlantic.
Grant is proud to display the red, black and white Maritzburg College colours on his boat Melokuhle ("stand for what is right") as he embarks on a mission to inspire action for our oceans.